The transformation of the Bata Library at Trent University features a 278-square-foot (26-square-meter) green wall installed in the atrium with the LiveWall ® Indoor Living Wall System. The architectural and academic heart of the main campus of Trent University (Peterborough, Ont.), the Bata Library is a revered building in Canadian architecture. LiveWall is the green industry's most sustainable, durable and low-maintenance living wall system.
Constructed in 1967, the Bata Library is a prominent landmark on Trent University's Peterborough campus, and was designed by architect Ronald Thom (1923-1986), the celebrated pioneer of modern Canadian architecture. Completed in 2018, the transformation project, which was planned and guided by the Toronto studio of Perkins + Will, transformed the building into a true library of the future.
Installed and maintained by green infrastructure specialists Ginkgo Sustainability, the Bata Library green wall is almost 7 feet (2 meters) in height and was constructed in two side-by-side sections each 20 feet (six meters) in length. In total, it includes 150 LiveWall modular planter boxes manufactured in a bluestone color. The modular planters contain inserts that hold the growing medium and a total of 380 plants. The plant palette is a mix of seven different tropical plants with dark green, light green and white foliage.
"The living wall is recessed between existing concrete pillars in the library's atrium. It connects two adjacent seating areas to create an inviting open space, softens the center of the interior, and complements the tone of the cedar ceilings."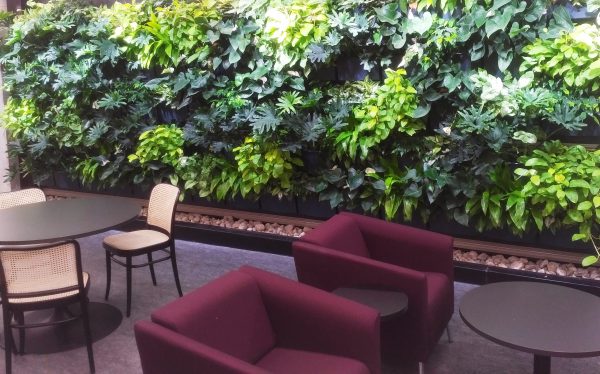 Thom envisioned the campus buildings, constructed on the west and east banks of the Ontonabee River, as growing out of the picturesque landscape on the site's 1,500 acres of forested hills. The window-walled Bata Library appears to rise up from river, and the atrium's skylight brings natural daylight streaming into the interior.
"Thom wanted excellent design that harmonizes with natural settings and natural beauty," said Dr. Leo Groarke, Ph.D., president and vice-chancellor, Trent University. "Featuring a living wall in the re-design of the Bata Library is a wonderful way to honor this legacy."
"The library has always celebrated a vital connection to nature and the outdoors," said Shelley Strain, LEED AP, GRP, sustainability coordinator, Trent University Facilities Management. "The living wall symbolizes and strengthens this connection."