How to Care for a Living Wall
LiveWall was designed to be easy to maintain using simple steps and following sound horticultural practices.  Green wall maintenance is easy, but critical and must be performed to ensure plant survival,
To take the guesswork out of caring for your vertical garden, LiveWall has developed guides for both indoor and outdoor living wall systems.   The maintenance protocols are simple, and guide caretakers through requirements for each year, season by season.
We encourage you to keep a log of your green wall maintenance activities to better understand how fertilization, watering, pruning and other practices affect the performance of your living wall plants.
LiveWall Outdoor Maintenance Instructions
The costs to maintain a living wall are reduced when a preventative maintenance regimen is conducted, emphasizing frequency.  While the green walls are automatically watered, they do require a adjustment as the average daily temperatures change and as the plants mature throughout the year.
Maintenance visits should be conducted every 1 to 2 weeks.
LiveWall Indoor Maintenance Instructions
Most of our interior living walls include automatic irrigation components.  Because tropical plants used in controlled indoor climates require relatively infrequent watering compared to outdoor systems, smaller scale LiveWall's indoor green walls can be effectively watered by hand.
Indoor Living Wall Maintenance Video Guide
Ready to start taking care of a green wall?  Watch this video for the basics of caring for indoor living wall plants.
Ready to start taking care of a green wall?  Watch this video for the basics of caring for indoor living wall plants.
Frequently Asked Questions about Green Wall Maintenance
Do living walls need to be watered during winter?
livewall
2019-02-08T15:51:22+00:00
In climates with warm winter weather, irrigation will need to continue throughout the winter.  Less water is typically required during the coldest months.  Follow the LiveWall irrigation chart to adjust the run time and frequency as the temperatures change.
In the event of an occasional freeze, it is important to blow out the irrigation lines an prevent cracks and leaks, and reactivate the system as the weather warms and plants dry out.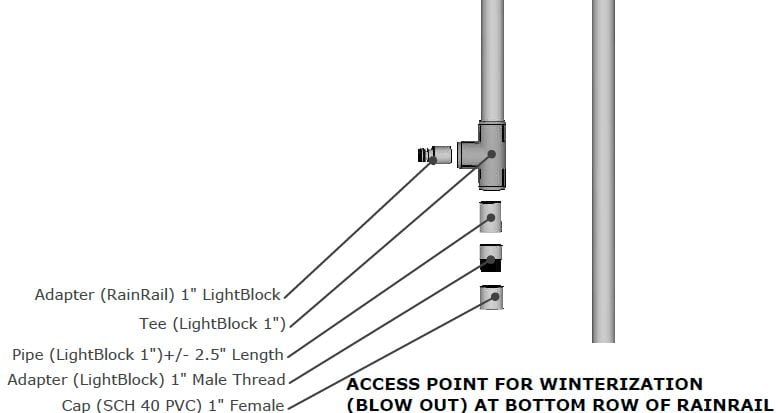 Your outdoor living wall's irrigation system may need to be blown out and reactivated multiple times during the winter months to sustain perennials.
To sustain perennial plants through the winter, the soil must not excessively dry out. The plants in the living wall will not receive sufficient moisture from rainfall due to its vertical nature, and because the planters are exposed, the plants will enter dormancy earlier than the plants in the ground will. Therefore, you will likely need to water your perennial plants before the danger of freezing has passed and typically much sooner than you begin irrigating your at grade landscape.
If the application is planted with perennial plants and it is large, or commercial scale, activate the system as needed – but do so only on warm days where water can flow and drain freely, and only enough to remoisten dry soil.  The irrigation system will need to be blown out after each use until the danger of freezing has passed.
If the application is small scale, then wintertime watering can be implemented as indicated above, or simply by using a hand held hose or watering can as the weather necessitates.
Free Ongoing Maintenance Support
Contact us if you have questions about caring for your living wall.
We also offer monthly maintenance alerts to remind you of seasonal care needs and updates to the maintenance protocol based upon the current best practices.  Simply enter your email below to receive maintenance updates from LiveWall.