Welcome to LiveWall, LLC, an eco-friendly vertical garden enterprise founded by one of America's best and most creative nurseries, Hortech Inc. of Spring Lake, Michigan.  LiveWall is the leading designer of practical and sustainable living wall and vertical garden products with advanced irrigation preferred by designers, architects and outdoor landscape contractors.  LiveWall sells its planted vertical garden products globally.  Current projects are located as far away as Hawaii, Dubai, China, and Brazil.
Our vertical garden products are living art for the walls that also lower heating and cooling costs, promote a healthy mental, and improve the physical environment in which we live, think, and breathe. If you or your customer is asking, "How can I go green?" or "How can I live a healthier life?" we can help.
LiveWall is the creation of Dave MacKenzie, horticulturalist, biologist, inventor, and author of two respected books on ground cover, Timber Press Pocket Guide to Ground Covers and Perennial Ground Covers.
In 2008, Dave began work on finding a solution for planted living walls that would be beautiful and sustainable whether they are installed inside or outside a home or workplace. His growing customer base around the world provides a testimonial to his success.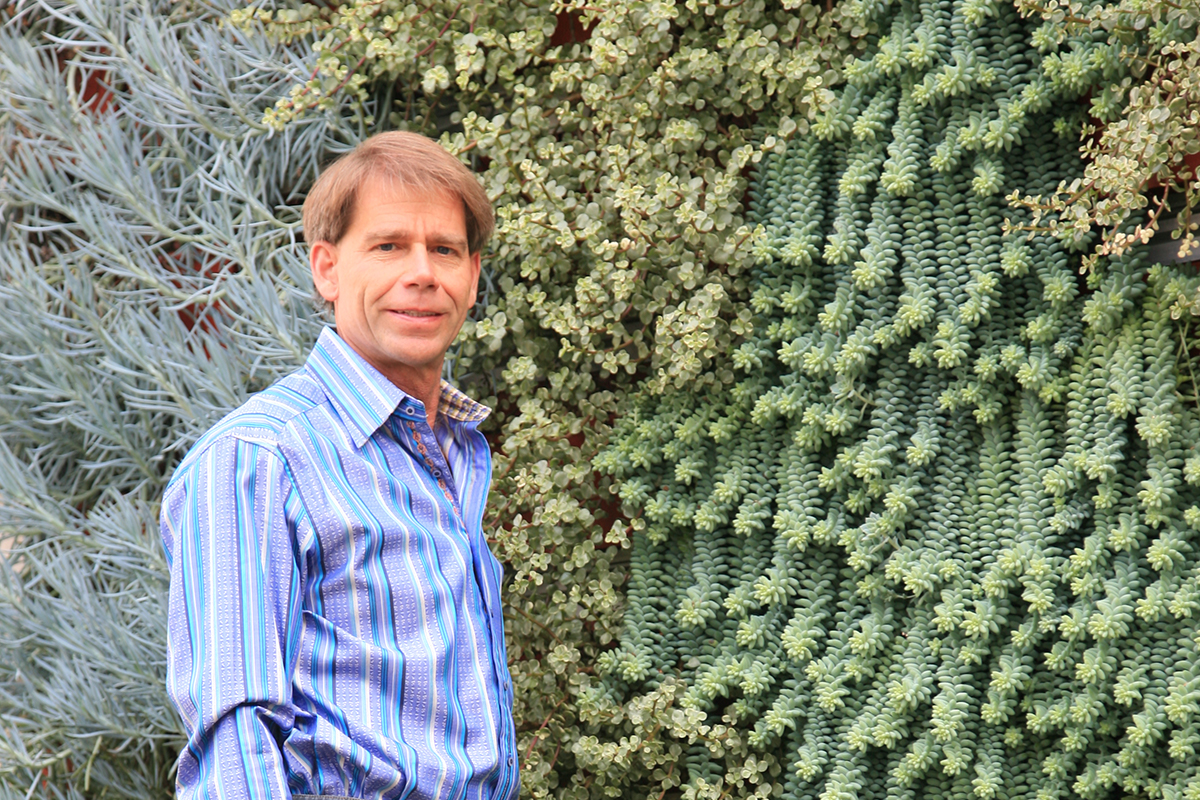 Dave MacKenzie, horticulturalist, author, inventor and founder of LiveWall.
The Benefits of Living Walls
Under Dave's leadership, LiveWall produces vertical garden products that reduce the energy required for heating and cooling while providing important ornamental design elements that increase property values and environmental amenities that can provide measurable health benefits.
For example, an indoor vertical garden or outdoor living wall can contribute to lower blood pressure, weight loss, and other improvements in health and well-being that result from a more peaceful, stress-relieving environment, improved diet, healthier humidity levels, and improved air quality.
Because living walls provide an excellent medium in which to grow herbs and vegetables, it is possible to begin and sustain a low-salt, low-fat preparation of tasty meals that help people to lose weight and reduce stress on hip and knee joints, all while impressing their friends with their culinary skills.
The son of a physician, Dave's interest in plants and living space began in college. He graduated with a vision of developing a successful nursery enterprise near the southeastern shore of Lake Michigan to take advantage of the rich soils, reliable precipitation, and summer and winter temperatures, moderated by the proximity of the enormous lake.  Today, the complex of Hortech nurseries and greenhouses is surrounded on three sides by water at the convergence of Spring Lake and the Grand River, just 3.5 miles from the "singing sand" beaches and spectacular dunes of Lake Michigan and its temperature-moderating 1,180 square miles of fresh water.
After achieving national renown as a leader in ground covers, Dave had sufficient experience with plants and horticulture to significantly re-think and improve green roofs as a key contributor to responsible green building design.  As a recognized national expert, Dave formed a subsidiary to Hortech, operating today as LiveRoof Global, LLC.
With the rapid success of LiveRoof, customer requests for a living wall system for green homes and green offices began to build.  Dave and his team began testing a number of existing vertical garden systems.  At the time, each competitive commercial living wall system on the market was found to be too complicated to install, plant, and maintain.  Worse, Dave's research team found them to be poor at growing plants.  He and his team believed that they could do better.
The team's research revealed that most competing living wall systems required plants to grow sideways, inconsistent with their natural behavior.  Most living wall systems also required irrigation watering to 'trickle' down through the soil from one compartment to the next, also contrary to nature's watering of the soil surfaces by rain.
Dave and his team found that when you water a plant through a column of soil, from top to bottom, so much water passes through the top-level compartments that it leaches the nutrients out of the soil.  This stresses the top row plants and promotes disease and enables insect infestations, all of which can be passed downward in the irrigation stream.  On the other hand, the lower compartments become waterlogged and oxygen-depleted, promoting fungal and bacterial root rot, thereby weakening and killing the plants.
Ultimately, Dave's team understood that plants, at least most of them, have evolved such that their roots grow downward (physiologically known as geotropism) and their stems grow upward (physiologically known as phototropism).  When they are forced to grow counter to their natural physiology, they become vulnerable to disease.
Dave tested his theory in a prototype system which delivered water to each row of upright planters.  After overwintering perennials through three winters, the prototype design was used to create molds and extrusion dies for the system's components.  The system was made available for sale in early 2012.
LiveWall's first focus was to develop a system that grew healthy plants, particularly in cold-winter climates.  The original system prototypes were tested through 3 Michigan winters before the system's design was put into production.
Hortech has more than 35 years and LiveRoof has over a decade of building satisfied customers, and sister-company LiveWall is replicating that commercial success.  These companies are products of their demonstrated abilities to support the design durability and creativity goals of landscape architects, architects, designers, and residential and commercial customers across America and around the world.
Today, LiveWall offers an automatically-watered, durable, full vertical garden product which can be shipped anywhere in the world.  Dave MacKenzie and his team are proud to package what they truly believe is the world's best living wall system by integrating astonishing beauty with TopSide® and patented RainRail® technology for growing plants vertically in a manner that is healthy, simple, and sustainable.
Furthermore, LiveWall is committed to putting customers first, with fast turnaround time on quotes and structures, customized shop drawings with each order, and expert technical support.  Dave's team cares about innovation–with unmatched flexibility and value placed on customer feedback.
With guides on installation, plant selection, planting, and maintenance, LiveWall is designed to be the living wall system that empowers owners and contractors to be successful in their living wall experiences.
livewall
Coava Coffee went green at its new West Side location on Jefferson Street in Portland, Oregon with the installation of a LiveWall® Indoor Living Wall. An organic expression of Coava Coffee's organic brand, the green wall [...]
livewall
Introducing the all new LiveWall Idea Guide! Download the LiveWall Idea Guide to get inspired. We are excited to offer our all new for 2018, LiveWall Idea Guide.  This Idea Guide will inspire you [...]
livewall
The new Monroe County Parking Garage in Bloomington, Indiana, features a unique LiveWall® installation. LiveWall, the green industry's most sustainable, durable and low-maintenance living wall system, fills five of the parking structure's window openings with [...]