Mission
Our mission is to empower our customers with living wall structures, protocols and plants that make living walls simple and lasting, accessible and serviceable to a broad customer demographic.
We aim to be knowledgeable, innovative and uncommonly helpful as we foster a greener world.
Vision
Our vision is to restore the balance between green space (plants) and hard space (concrete, steel, glass).
We aim to create a greener more hospitable planet by proclaiming the benefits of plants and helping our clients to successfully install and cultivate them (on vertical surfaces).
Method
LiveWall is designed to parallel nature. With LiveWall, plants enjoy natural orientation; stems are oriented upward instead of sideways. Roots are allowed to grow downward—in a nutrient rich soil (not sit in water, or cling to an artificial substrate).
Irrigation comes from above, like rainfall, and excess water drains from the lowest point of each planter, for healthy, oxygen-enriched roots.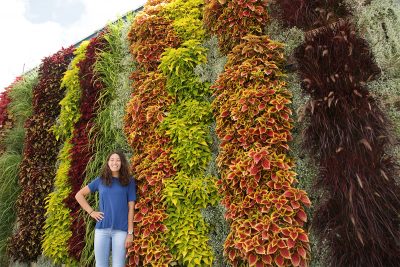 Outdoor Green Wall System
LiveWall outdoor systems are designed to withstand the elements.  Architectural quality planters are molded from the same material as car bumpers.  Our unique RainRails deliver water through anodized aluminum rails, which maintain their beautiful finish and integrity in all weather conditions.
Will LiveWall Work for Me?
Whether you are a commercial property owner, professional landscape contractor, architect, interior designer or landscape designer, LiveWall is proud to have demonstrated its performance as the world's best provider of flexible, modular living wall systems that can be installed on virtually any outdoor surface and on most indoor walls of any office, home, or workplace.
Why Should I Consider a Living Wall?
What do LiveWall Clients Say about Their Experiences?
"We knew we were going to have to put a fence or something up there and the LiveWall didn't end up being any more expensive than what we were going to have to do anyways. It was just a beautiful, prettier version of what we were going to have to do."
What's New at LiveWall?
The Lansing Board of Water & Light's new Central Substation in the city's historic REO Town neighborhood features a two-sided, 425-square-foot living wall installed with the LiveWall® Outdoor Living Wall System. Completed in July [...]
The renovation and  expansion of the Transportation Security Administration (TSA) checkpoint at Appleton International Airport (ATW), Appleton, Wisc., features a 276-square-foot green wall installed with the LiveWall® Indoor Living Wall System. Completed in August [...]
The transformation of the Bata Library at Trent University features a 278-square-foot (26-square-meter) green wall installed in the atrium with the LiveWall ® Indoor Living Wall System. The architectural and academic heart of the [...]
LiveWall is brought to you by the same team as these leading brands:
We are always looking for great team members! LiveWall is based in Nunica, Michigan.  Click to see open positions with LiveWall, LiveRoof, and Hortech companies.