LiveScreen:  LiveWall on Wheels
LiveScreen® units are LiveWalls on wheels which arrive preassembled and ready to plant, so they are simple to operate and maintain.
There are 4 living screen models, both for outdoor and indoor applications:
LiveScreen XL, Access, and Patio models are designed for outdoor use, with integrated automatic watering.
For creating attractive, organic dividers in offices, institutions and restaurants, the LiveScreen Indoor model is sold as a hand-watered living wall system with a rear drainage and catchment system for drip-free use.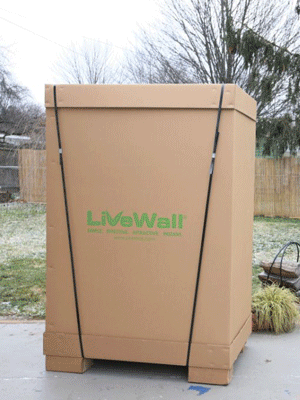 LiveScreen is a Versatile, Living Privacy Solution
Where privacy, serenity, flexibility and low maintenance are paramount, LiveScreen is the ideal solution.  In assisted living or rehabilitation settings, these mobile vertical gardens can be moved as needed to administer horticultural therapy.  In restaurants, outdoor herb walls can be harvested in the morning and moved to add privacy and reduce noise in outdoor or indoor eating areas.
The green wall plants improve indoor air quality and absorb sound making them excellent living dividers between departments in offices, groups in classrooms or libraries, and sections in dining establishments.
Well Made, Lightweight, Long Lasting Green Walls
Our planted wall systems are made in the United States, and we stand behind our products with a 15 year warranty.  LiveScreen structures use high quality architectural-grade anodized aluminum supports and rails.  The wall planters are molded from UV-resistant, high-impact polymers in a variety of designer colors.
Featured LiveScreen Projects and Plant Combinations