OUTDOOR GREEN WALLS
LiveWall empowers building owners, contractors and design professionals to grow healthy exterior living walls.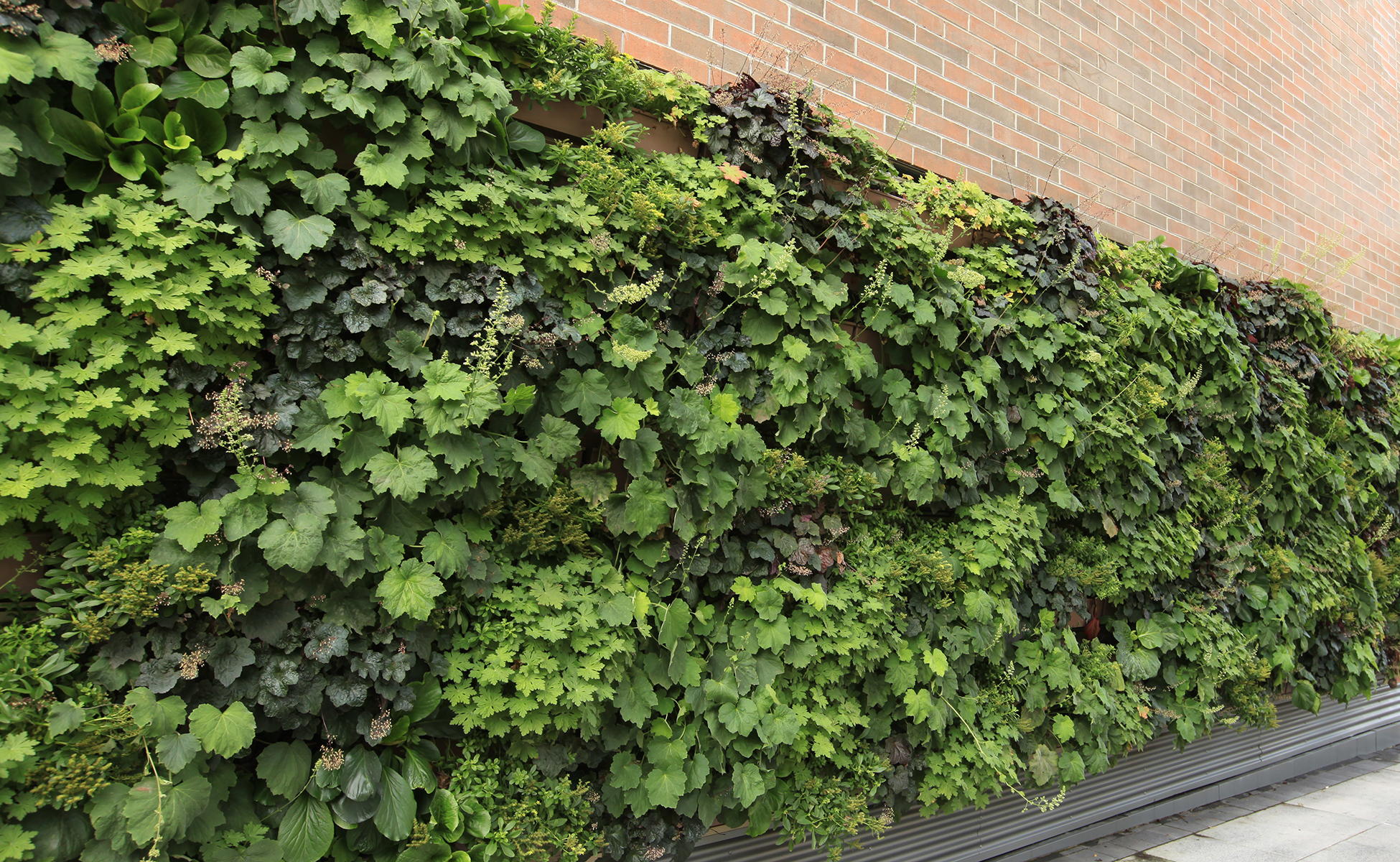 Grow beautiful and functional wall gardens with LiveWall® Outdoor, the vertical garden system which provides a healthy growing environment for plants in virtually any climate.
Building owners construct outdoor green walls because they are excellent marketing tools that signal environmental stewardship, cool buildings, expand usefulness, attract songbirds and pollinators, and promote healthier, happier residents, customers and employees.
To overcome the challenges of growing plants accustomed to a horizontal landscape in a vertical garden, the team which developed LiveWall sought to simulate a natural growing environment with natural orientation, effective drainage, and rain-like irrigation.  Additionally, the highest quality components that can stand up to the elements, such as UV resistant architectural moldings for the planters and anodized aluminum railings.
Removable planter inserts make LiveWall the practical choice to grow plants with limited lifespans but high impact such as colorful annuals and vegetables, herbs and small fruits.
People surrounded by green wall plants experience improved mental and physical health, feel more content and relaxed, and are more creative.  Using green walls to signal the values of your organization and beautify your building also pay off in greater productivity and satisfaction.
Frequently Asked Questions about LiveWall Outdoor Systems
What are the key differences between the outdoor and indoor LiveWall systems?
livewall
2018-08-31T16:21:23+00:00
When installing living walls indoors, water containment is critical:
The wall planters are rear-draining, and would include a rubber hose drain assembly to contain runoff water.
The indoor wall planters hold twice the soil volume as the standard outdoor wall planters to provide ample growing space for a wide selection of tropical plants.
In outdoor green wall applications, the designer has more options for planter size, drainage method and water delivery.
Large wall planters (recommended in hot climates and for holding larger perennials and grasses in cold climates) are available with a bottom drain or a rear drain option (when runoff water must be contained, such as over doorways, windows).  These are spaced 16″ on center vertically.
Standard wall planters have a bottom drain option, and are most commonly used with annuals, edibles, succulents, and a number of cold-winter hardy perennials.
Choice of spray nozzles (typically recommended for outdoors), or drip irrigation (when site is sensitive to runoff from the plants).
Example Outdoor Living Wall Projects
SLS Lux Miami Green Wall Entry Arches
livewall
2019-01-04T12:56:17+00:00