The Alice and Herbert Sachs Therapeutic Conservatory on the main campus of MossRehab, Elkins Park, PA, features an 84-sq.-ft. wall featuring a LiveWall indoor living-wall system. MossRehab is the physical and cognitive rehabilitation division of the Einstein Healthcare Network, Philadelphia. The Conservatory offers a dedicated space for its horticultural-therapy program, which helps patients advance their rehabilitation goals through gardening. LiveWall, Spring Lake Park, MI, provides sustainable, durable, and low-maintenance living-wall systems.
Designed by Chianis + Anderson Architects PLLC, Binghamton, NY, the 1,500-sq.-ft. Conservatory is divided into three connected sections. "Work" (440 sq. ft.) includes a worktable and storage cabinets. "Grow" and "Show" are housed within a greenhouse structure. The Grow Room (530 sq. ft.) is a working greenhouse. It provides a bright and airy space where horticultural therapists engage patients in gardening activities. The Show Room (530 sq. ft.) is a plant-filled place of respite. In addition to the green wall, it includes a water wall, daylighting, natural cedar trim, natural teak furnishings, potted plants, and accessible raised-planting beds.
"The green wall complements the water wall to create the central showpiece of this section."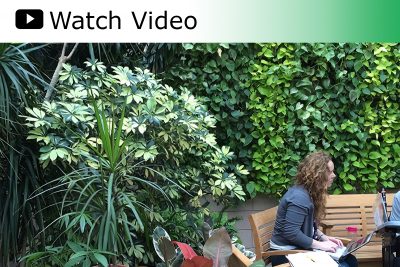 "The Show Room was designed as a sun-filled, relaxing, and rejuvenating green space, a retreat from the hospital environment," said Craig Sieving, vice president, facilities administration, Einstein Healthcare Network. "As its name suggests, it is also the showcase of the Conservatory. The green wall complements the water wall to create the central showpiece of this section."
"In the design of the Show Room, we wanted to screen a large masonry wall," said Jeffery T. Smith, AIA, NCARB, architect and partner, Chianis + Anderson Architects. "The green wall serves that function. It also provides a strong visual impact in relationship with the water wall and adds another garden element and more plants without taking up precious floor space."
LiveWall was engineered with horticultural and structural features specific for indoor and outdoor environments by the same company that created the LiveRoof green-roof system. "More than a decade ago, we installed a LiveRoof green roof on a different facility. Our experience with LiveRoof gave us confidence in LiveWall," said Sieving.
"LiveWall is a modular system that can be installed with full-grown plants," explained Smith. "It is engineered with structural and mechanical features that help plants thrive in the greenhouse structure."
"Our patients in horticultural therapy and volunteers care for the plants on the wall," said Anne Wieland, CTRS, MHA, team leader, recreation therapy department, MossRehab. "With the ruggedness of its structural materials and the ease of changing out the modular planters, LiveWall has proven to be a practical and durable green-wall system."