The Downtown Market in Grand Rapids, Michigan, features a new living wall as a green signature for the downtown area. The forward-thinking building's stunning green wall grabs attention from market-goers and passersby, who cannot help but stop and admire the greenery.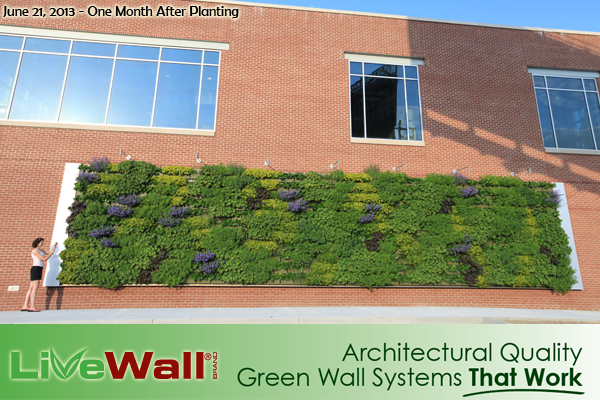 To ensure a successful project, the design team chose to use the LiveWall system, the vertical garden system that works. LiveWall creates a healthy growing environment in which plants can thrive. The system allows the plants to grow in their natural orientation–stems and leaves grow up toward the sun and roots growing down toward the ground. Additionally, the unique RainRails™ provide natural, rain-like water delivery for healthy, functioning plants.
The natural function supported by LiveWall allows for predictable and affordable maintenance costs and elated owners. The LiveWall design team worked closely with the project architects to ensure that their vision translated flawlessly into reality. The project was supported by the decades of real plant growing experience offered by the LiveWall team and the five years of research and development that has gone into the system design.
LiveWall provides natural orientation and rainlike irrigation for thriving, healthy plants.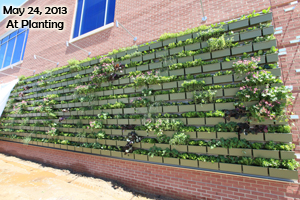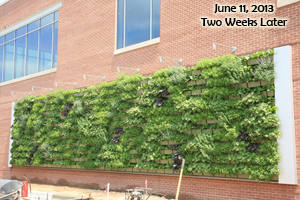 The Grand Rapids Downtown Market is nearing completion of interior space and will soon be fully open to the public. LiveWall has helped generate buzz about the new building. Several media outlets have run stories about the massive living wall on display at the market.
NBC affiliate WOOD TV invited Business Development Manger Amber Poncé to the studio to discuss the benefits of LiveWall and the Downtown Market as part of their Eight West morning show. ABC affiliate WZZM highlighted the LiveWall installation several times on local news. One of Michigan's largest online news outlets, Mlive.com featured the living wall installation along with Greenroofs.com and Living Architecture Monitor. Using the LiveWall system to draw attention to the new building has contributed to demand for space and the interior leasing space is now nearly full.