Remember the Top 25 "Back to Eden" ArtPrize entry?  The 1,400 square foot living wall, or rather LiveWall®, is currently filled with hardy perennials, and despite one of the harshest winters in local memory, all of the plants have survived.  In May, only half of them will remain; the other half will be swapped for 1,500 plus herb and vegetable plants and the other half will be returned for reuse to Hortech, Inc. the nursery that grew them and parent company of LiveWall, LLC.
"As far as I know, this will be the largest 'food wall' in North America, and I am ecstatic about this initiative," said Dave MacKenzie, inventor of the LiveWall system and ArtPrize artist.  The chefs at the various restaurants within The B.O.B. will have access to fresh, organically grown plants that range from peppers and tomatoes to an array of leafy greens and herbs.
"Using The B.O.B.'s vertical garden as a food wall fits with our 30 year effort to source locally (from West Michigan farms) and our current practice of growing on-site at many of our restaurants," says The B.O.B. owner Greg Gilmore.
"In this case, we're taking locally grown freshness to the next level – to an urban setting.  This is a way to optimize our space, control our budget, and to equip our chefs with the very best in flavor and nutritional value.  Our chefs are like artists; artists that use food as their medium, and they take tremendous pride in their work.  This is a way to support and empower them so they can do their very best work."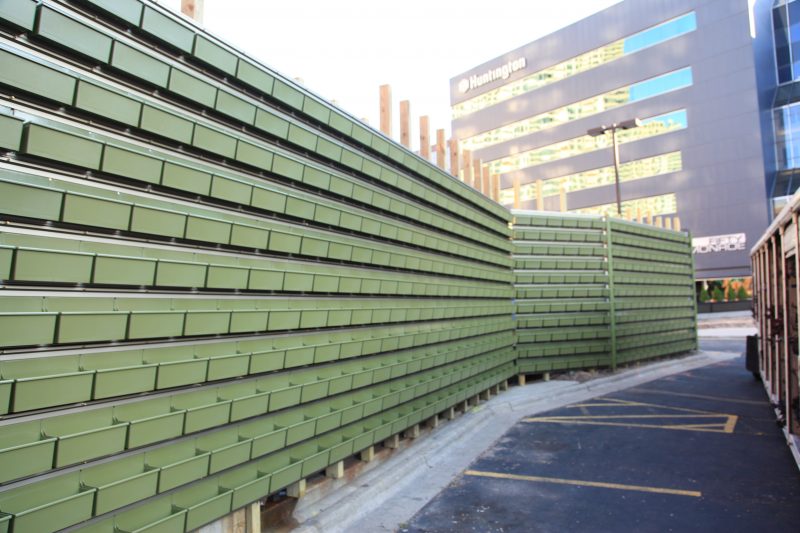 Head Chef Jered Miller concurs, "When Greg presented me with the idea of growing food on site, I didn't have to think twice.  Herbs and certain vegetables make up a significant part of our budget, and we can save some money, but even more valuable is the freshness.  There is nothing better than freshly harvested flavor, and to be able to harvest and use the product within minutes…well, I don't know how you can top that.  We will be growing a broad variety of herbs, some leafy greens, tomatoes, peppers, and even a few 'surprise' items that I envision using in all sorts of dishes and dressings, and perhaps even a few special menu items like a 'LiveWall salad' composed of fresh herbs and greens.  It's exciting, and has my creative juices flowing."
The two, Gilmore and MacKenzie, have also collaborated on an indoor LiveWall system that will grow hops. Located in the atrium leading from the second to third floor, near Dr. Grins Comedy Club, they acknowledge that growing this type of crop in an indoor green wall is experimental.  Even if it doesn't produce a bumper crop of hops for making beer in the onsite microbrewery, it will add to the decor, create some green space, and give off oxygen.