The new Monroe County Parking Garage in Bloomington, Indiana, features a unique LiveWall® installation. LiveWall, the green industry's most sustainable, durable and low-maintenance living wall system, fills five of the parking structure's window openings with a variety of plants that bloom in shades of yellow, red, pink, purple, and green.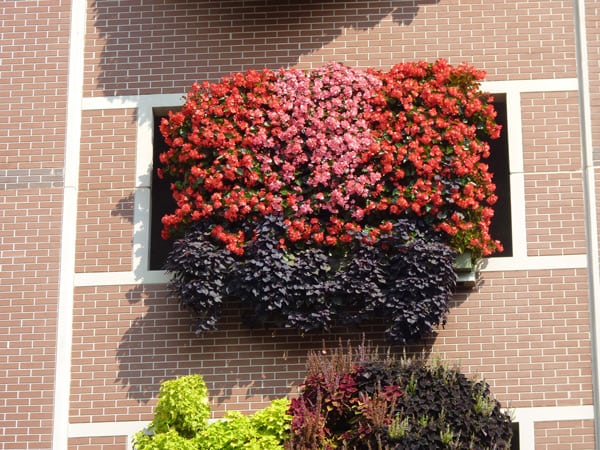 "The idea was to break up the otherwise stark exterior of the six-story parking garage with an interesting and visually appealing element, achieved by incorporating some green design," said Stephen Andoh, AIA, LEED AP, project manager, Axis Architecture + Interiors, the project architect.
"Many older buildings in the area have second and third story window boxes planted with flowers," said Julie Thomas, Monroe County commissioner. "Installing LiveWall put window boxes into the windows of the parking garage. The green wall, with a total of 180 plants in a variety of seven annuals, is a beautiful, lively addition to the garage. "LiveWall was a good choice for an outside green wall exposed to the elements. Its components are strong and durable," said Joel Fleming, project manager, Hagerman Construction Corporation, the project's general contractor.
"LiveWall's structural design lent itself to a secure installation within the garage windows in a way that allows for easy access from behind the green wall on the inside the garage," said Logan Messmer, project engineer, ProCLAD, Inc., a building envelope contractor selected to install the parking garage green wall.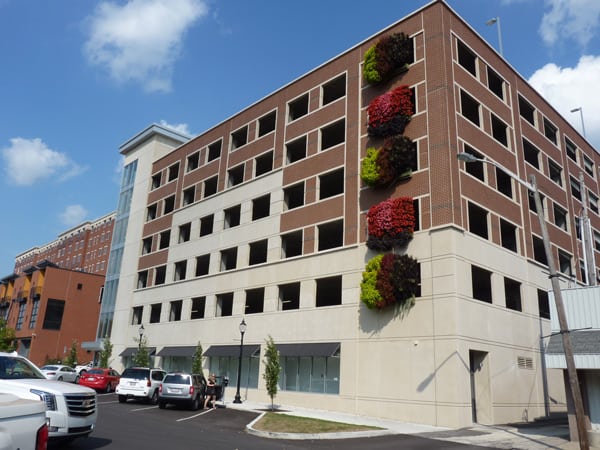 The window openings in the parking garage measure 8 feet long by 6 feet tall. ProCLAD designed and installed a framework within the window openings with 4-inch by 4-inch by ¼-inch tube steel. They bolted the LiveWall system's horizontal aluminum rails to the tube steel frames. Each of the five sections of green wall has six rows of LiveWall modular planter boxes, which slide into the rails.