Following closely on the heels of the recent LEED Gold certification, the Grand Rapids Downtown Market is becoming even greener.  The Downtown Market added a 202 square-foot indoor living wall this week, installed by local manufacturer LiveWall, LLC.  The new addition adds more than 100 new plants to the second floor atrium across from the teaching kitchen and complements the outdoor living walls and the upstairs greenhouse space.
"Like our outdoor green walls, which help cool the building, serve as vertical garden space, and restore lost habitat, the indoor LiveWall will benefit our visitors and staff. The wall provides oxygen and humidification, reduces airborne pollutants, and improves our indoor space, environmentally, psychologically, and physically.  When people are surrounded by nature, they feel more contented, creative, happy, and healthy."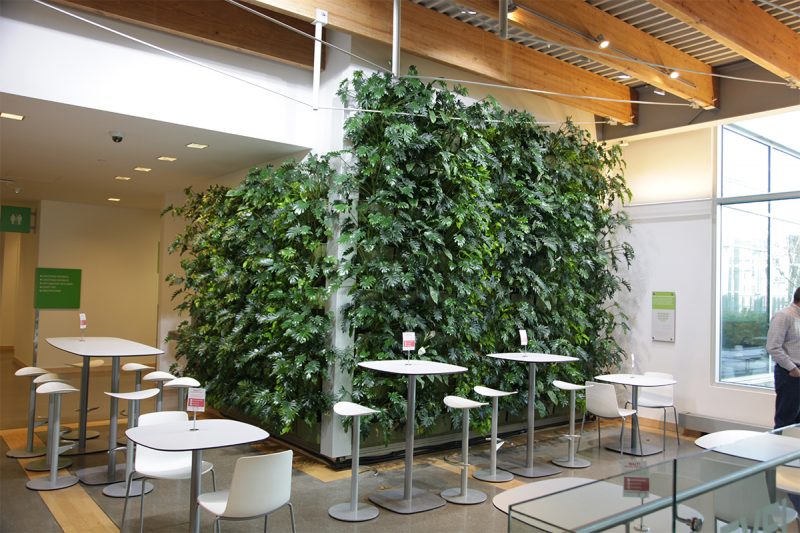 LiveWall, LLC is partnering with the Downtown Market, to help broaden their portfolio of design concepts by testing different display plants and planting patterns, and to increase the vertical green space inside the Market Hall.  LiveWall also planned and planted the outdoor vertical walls, as well as the LiveRoof system at the Downtown Market.
"Over the next few years, we'll use the wall to educate designers and architects in the pairing of plants in our living wall system," said Dave MacKenzie, LiveWall, LLC president.  "This vertical garden is unique, as it will showcase an unusually broad array of plant material.  Our initial planting is naturalistic with rich-leaved tropical species, but I anticipate a seasonal display of poinsettias, and some really unique plants and patterns in the future."
See more on MLive.com.