What's so special about the LiveWall® System?
First and foremost, LiveWall is designed by career horticultural professionals to grow healthy plants. From top to bottom, LiveWall's vertical garden planters create a natural growing environment. We employ only our TopSide® technology, whereby the soil is oriented horizontally, unlike some competitors' products, the plants grow upward from the top of the soil and the roots grow downward, as they do in nature. Likewise, with our unique RainRail™ mounting rail/irrigation conduits, the LiveWall System waters your plants naturally, like rain, but in evenly metered amounts along every tier of your living wall to sustain nutrient levels and plant health.
A living wall or vertical garden from LiveWall is unique in its simplicity, easy installation and sustainability. Our WallTer® wall-planters are high-impact, UV resistant moldings and the unique insert make pre-growing and planting simple. The LiveWall plants are typically pre-grown for instant maturity, instant benefits, predictable maintenance and low life-cycle costs.
Finally, a living wall from LiveWall is absolutely beautiful, and is attractive even when the plants are dormant. LiveWall can be used in both interior and exterior applications. It is effective for commercial, industrial, educational, governmental and residential projects. Although beautiful and functional in suburban and rural installations, LiveWall is particularly suited for the urban dwelling environment and is scalable. Our vertical gardens work beautifully in the most intimate urban applications as well as large scale, multi-story commercial projects and, in either case, can be installed with great efficiency.
Design flexibility is enormous and ranges from the use of annual plants for colorful patterns and waves of flowers to long-lived succulents, perennials, herbs, and vegetables. To meet your requirements, LiveWall modules can arrive at the job site fully vegetated in WallTer Inserts. Maintenance is easy and replacement of the plants is quick and economical.
What are the reasons to use LiveWall over other living wall systems?
The LiveWall System is different in design and use from other planted living wall products. For example, when you involve us in your design process and adopt the LiveWall System, you can rely on your living walls to be successful each and every time. LiveWall brings other important benefits, as well, such as excellent aesthetic presentation, instant functional and environmental benefits, substantially lower maintenance, elimination of soil erosion, standardized installation by expert installers, expertly engineered soil and plant selections, durable lasting components, and the pride in another sustainable eco-friendly project.
Simple, effective, attractive, instant, and most of all, great at growing healthy plants, LiveWall represents the best design and the best value in green, living wall systems.
How much does a LiveWall cost?
The costs that go into a LiveWall system are infrastructure (WallTers, VertiRails, RainRails, irrigation components, fasteners, etc.), planted WallTer insert, taxes, labor, rental of scissors jack (if a ladder won't suffice), and a fair profit for the installer.
The cost will vary with the scale of the living wall project - bigger costs less, smaller costs more (per square foot) - ease of access, plant selections, and complexity of the design. When we add this all up, we project the contractor-installed costs will typically fall within the range of USD $90-$140/sq ft.  The cost of the planting wall structural components only are typically around USD $45-$75/sq ft. Keep in mind that site alterations for plumbing and drainage may be required, too. For a budgetary estimate of your project, please call 877-554-4065, or email plans or site images to us at sales@livewall.com.
Do green walls reduce storm water runoff?
The typical green wall has very little impact upon storm water runoff. This is because the system footprint is vertical and is quite small in terms of horizontal surface area. In addition, the building overhang often blocks rain. If storm water management is a high priority, the rain should first be captured from the roof, stored in a cistern, then filtered and used to irrigate your LiveWall vertical garden.
How do green walls reduce noise?
Plants, soil, trapped air, and moisture in the soil are great acoustic insulators. Studies have shown that green walls can reduce ambient noise by up to 40 decibels, an important benefit to those who work or live close to noisy streets, highways and airports. Because the decibel scale is logarithmic, every 10-decibel reduction equals a tenfold decrease in intensity.
If you live on a busy street, ambient noise levels may average 75 decibels. The design for a quiet office may target 60 decibels, a quiet urban neighborhood may average 40 decibels at night and a quiet library may seek to operate below 40 decibels If you are an architect, landscape architect or contractor, it is easy to see how much additional peace and tranquility you can bring to your client by including a vertical garden in your building plan.
Why place living walls indoors?
Air Quality: Oxygenation, humidification, and reduced VOCs (volatile organic compounds.
Beauty, Peace, Wellness: People surrounded by plants are happier, healthier, more contented, creative, productive and relaxed.
What are the financial advantages of living walls?
Vertical gardens will save the property owner on air conditioning and heating costs, and will save on the grocery bill when planted with herbs and vegetables. There are many additional financial benefits associated with Biophilia in the workplace, retail settings, healing centers, and educational environments. To learn more, read about
The LiveWall System is delivered with mature plants in vertical gardens that are rich with the proper nutrients and irrigated by a metered watering system. As a result, our sustainable system demands less maintenance cost and prolonged plant longevity.
What are the key differences between the outdoor and indoor LiveWall systems?
The indoor wall planters are rear-draining for water containment, and the outdoor planters have drain holes in the bottom of the planter.
The indoor wall planters hold twice the soil volume as the standard outdoor wall planters. Larger outdoor wall planters are available for holding larger perennials and grasses.
The indoor RainRails use drip emitters, and the outdoor RainRails water with spray nozzles.
The indoor RainRails are vertically spaced 16 inches on center, and the outdoor RainRails are spaced 12 inches on center.
What do the outdoor and indoor LiveWall systems have in common?
They both work—very well.
Almost effortless.
Happy owners.
Healthy plants—systems parallel nature.
Same helpful design staff.
Same high quality, architectural grade materials.
Same great customer service.
How do I go about designing a LiveWall® planted wall system?
Designing a living wall or vertical garden may not be something that you do everyday, so we have made it easy. We are happy to facilitate custom designs for larger scale commercial applications, and we have kits for smaller projects. With a photo or drawing, and following a discussion of project specifics, one of our staff designers will be pleased to provide you with a custom design and estimate. For more information, please contact us at sales@livewall.com or call 877-554-4065.
Which green wall plants grow best in LiveWall?
Depending on the wall orientation, climate, and design intent, designers may choose from a broad variety of plant types. These include:
Annual plants
Perennial plants
Succulents
Tropical Plants
LiveWall has trialed hundreds of plants and has compiled our findings in living wall plant selection and pairing design guides for each of the plant types above. Copies of the plant selection and pairing guides are available to customers. To determine which plant types are best for your project, please contact us at sales@livewall.com or call 877-554-4065.
How high can a LiveWall System be installed?
Functionally, LiveWall can be placed as high as your building infrastructure, plumbing, and ability to access it for maintenance will allow. It is up to the discretion of the Owner/Architect/Engineer as to the appropriateness of the system at any given height, with all health, safety and environmental factors to be considered.
Keep in mind that the taller the building, the more substantial the wind forces, particularly upward lifting wind forces. LiveWall specifies the use of its proprietary WindClip™ on installations above two stories. For more information, consult our engineering section and please contact us at sales@livewall.com or call 877-554-4065.
Can I retrofit my existing building?
In most cases the answer is, yes. In some cases it may take a little redesign for the additional weight of the LiveWall modules, but the principal force of the LiveWall system is downward, so most of the time retrofitting is relatively easy. A qualified engineer should always be consulted for retrofit applications.
Can LiveWall® components be cut to fit?
Our living walls are designed to fit your available vertical wall. Outdoor walls with Standard sized wall planters is designed to be spaced in rows that are 12" on center from top to bottom. Indoor walls and outdoor walls using the large sized planters are installed in rows spaced 16 inches on center. RainRail™ irrigation conduits are manufactured in a variety of lengths divisible by 16 inches, to match up with the spacing of the irrigation nozzles. Our design staff chooses appropriate RainRail lengths to eliminate field cutting. In some cases, field conditions may not match the site plans provided to LiveWall and custom cutting may be required. In those cases, the rails must be cut to 16 inch increments, and the cut end will have to be cleaned of all burs that otherwise can plug irrigation nozzles.
Is the LiveWall system fire resistant?
LiveWall is a building facade system and as such is not designed to be fire resistant. The material in the WallTer modules, however, is rated at 780°F flash point and burns at 450°F. The soil is relatively nonflammable, and the plants are variable. If fleshy succulent plants are used, they will actually be a fire deterrent, and if grasses are used, they are potentially flammable if allowed to dry out.
How much does a LiveWall module weigh?
LiveWall's vertical garden tiers weigh approximately 10 to 12 pounds per square foot, including the molded WallTer plant modules, when saturated and vegetated with upright growing plants. Long trailing vines may increase this weight.
Will I have any moisture or mold issues with my exterior wall using LiveWall?
It is unlikely that you will have any mold or mildew problems provided proper precautions are taken. LiveWall is designed to fasten to the building like many other siding systems. LiveWall is mounted on VertiRail™ furring tracks, typically 16 inches on center, which creates substantial room for air flow, evaporation, and escape of condensation behind the WallTer™ modules. An important component to any vegetated wall design is to recognize that moisture from the inside of the building can come outward through the walls and needs venting to escape. For this reason, the building should not be wrapped in rubber or plastic, but with a breathable weather resistant barrier such as Tyvek.
LiveWall leaves the wall system design including the moisture and mold-proofing up to the architect, engineer, or building contractor, but we are happy to relay to you the common practices that we have seen in use. Please contact us at sales@livewall.com or call 877-554-4065.
What type of fastener do I use to mount the LiveWall System?
The LiveWall system includes VertiRail furring tracks which provide flexibility in design over a number of different applications. The exterior wall design and means of fastening LiveWall to the wall system are the responsibility of the local architect and/or structural engineer and installation contractor and must comply with local codes.
Below are fastener recommendations for different structural applications based on 18 pounds per square foot. Please note that adhesives should not be used.
Wall Material
Fastener Type
Size
Pilot Hole
MFG/ Vendor
Part
Brick
Torx Hex Washer Head Screw Anchor
1/4" x 1-3/4"
1/4"
HILTI
KWIK-CON II+1/4" x 1-3/4" THWH St Steel
 
ITW Red Head Tapcon Screw Anchor
1/4" x 1-3/4"
1/4"
Fastenal
0131211 1/4" x 1-3/4" Hex Washer, Hex Drive, St Steel
CMU
Torx Hex Washer Head Screw Anchor
1/4" x 1-3/4"
1/4"
HILTI
KWIK-CON II+1/4" x 1-3/4" THWH St Steel
 
ITW Red Head Tapcon Screw Anchor
1/4" x 1-3/4"
1/4"
Fastenal
0131211 1/4" x 1-3/4" Hex Washer, Hex Drive, St Steel
Mortar Joints
Not Recommended
Poured Walls
Torx Hex Washer Head Screw Anchor
1/4" x 1-3/4"
1/4"
HILTI
KWIK-CON II+1/4" x 1-3/4" THWH St Steel
 
ITW Red Head Tapcon Screw Anchor
1/4" x 1-3/4"
1/4"
Fastenal
0131211 1/4" x 1-3/4" Hex Washer, Hex Drive, St Steel
Steel Studs
Ballistic Point, Single Fastener
0.157-1"
N/A
HILTI

X-U 27 P8 TH

Metal "Tophat" & 8mm Plastic

Aluminum Studs
Ballistic Point, Single Fastener
0.157-1"
N/A
HILTI

X-U 27 P8 TH

Metal "Tophat" & 8mm Plastic

Wooden Studs
Torx Hex Washer Head Screw Anchor
1/4" x 1-1/4"
1/4"
HILTI
KWIK-CON II+1/4" x 1-1/4" THWH St Steel
 
ITW Red Head Tapcon Screw Anchor
1/4" x 1-1/4"
1/4"
Fastenal
0131211 1/4" x 1-1/4" Hex Washer, Hex Drive, St Steel
EIFS

Varies

Fasten through EFIS to structure below

 
 
 
 
Will I need to provide supplemental lighting for LiveWall Indoor® living wall systems?
Lighting is critical to the success of your living wall. In nearly every indoor application, supplemental lighting will be necessary to ensure the proper intensity and spectrum for plant growth. Designers should specify fixtures, bulbs and placement to ensure that the living wall is evenly lit and receives the full spectrum of lighting required to grow healthy plants.
How intense must light be to grow healthy living wall plants indoors?
Light intensity is a measure of light energy hitting the plant surface and is also very important to plant health. For traditional interior lighting applications, light intensity is discussed in terms of foot-candles of light energy. While foot-candles is not the preferred measure of light intensity by horticultural scientists (who prefer a measurement in terms of "photo active radiation"), we have found that foot-candles will suffice if a proven light source, such as LiveWall's Norb® bulb, or one of the other recommended methods, is chosen. And, for most tropical foliage plantings 200-400 foot-candles of light energy hitting the foliage, is sufficient.
LiveWall, LLC has developed a plant selection and pairing guide for indoor plants based upon their lighting and water needs, and growth habit. This LiveWall design guide should be consulted for the correct light intensity for the type of plants that one intends to use. We have categorized the plants into lighting needs as follows:
Intense Light pertains to an indoor location within an atrium or sunroom with unshaded light throughout most of the day. This is almost equivalent to growing outdoors in full sun.
Bright Light pertains to an indoor location with direct light from a south or west exposure where the plants receive 2 or more hours of direct sun, but preferably not during the hottest part of the day. Artificial Bright Light is approximately equal to a four tube florescent fixture in close proximity to the planting, in the range of 400 to 600+ foot candles, for 12 to 15 hours per day.
Medium Light pertains to an indoor location with direct light for a couple of hours in the morning or afternoon (from east or west facing windows), or from a south facing window provided the location is several feet interior of south facing windows. Artificial Medium Light is approximately equal to a two tube florescent fixture, 2 or 3 feet from the foliage, in the range of 100 to 400 foot candles for 12 to 15 hours per day.
Low Light pertains to an indoor location that is not close to windows or supplemental lighting—typically a north or east exposure. Artificial Low Light is enough to read a newspaper, in the range of 25 to 100 foot candles for 12 to 15 hours per day.
For a copy of the LiveWall Indoor Plant Design Guide, contact us at sales@livewall.com or call 877-554-4065.
What type of lighting fixtures and bulbs are best for vertical gardens?
Light fixtures should be adjustable, for direction, and are typically located in front of the living wall and attached to or suspended from the ceiling. Occasionally, they are located at the bottom or sides of the LiveWall structure, to create proximity to the plants, and thereby provide sufficient light intensity across the entire wall surface. Often times, track lighting is used as it is contemporary, comes with many fixture options, and is relatively inexpensive.
In respect to the light source (bulb), the key considerations are proper light spectrum and light intensity. Plants tend to respond to blue and red wavelengths and in proportion that is not available from incandescent or typical office-type LED lights.  There are, of course, LED grow lights composed of red and blue diodes—but they tend to cast a purple light which looks odd, unnatural and unattractive.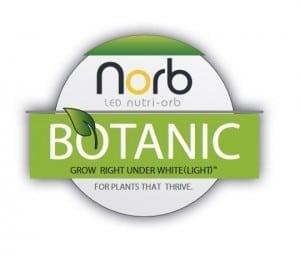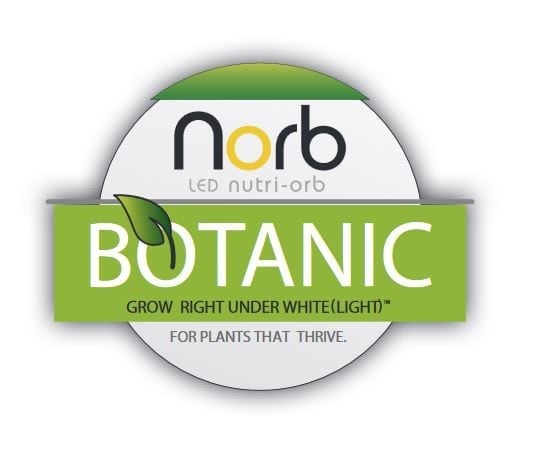 For this reason, LiveWall LLC developed the Norb® (Nutri-Orb) bulb, a specialized White-Light LED grow bulb that provides the right spectrum for growing plants. With Norb® bulbs, the plants can be healthy and "look right under white."  
Call us at 877-554-4065 to purchase bulbs, or purchase them on Amazon.com.
Norb bulbs are a PAR38 size.  They fit in a standard socket.  The bulbs are approximately 5-1/4" long and they are 4-11/16" in diameter at the widest point.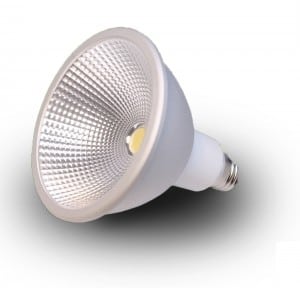 Norb® Lighting Facts:
Brightness:  1300 Lumens
Energy Use: 16 Watts
Beam Angle: 30 Degrees
Bulb Size: PAR 38
Expected Life: 7 years (running 14 hours daily)
Warranty:  3 years
Downloads:
The following lights also support plant growth:
Combination High Pressure Sodium / Metal Halide lights are usually quite powerful and best suited for larger walls.  They are excellent for growing plants as they have a light spectrum that is relatively similar to the sun.
Metal Halide lights have a good spectrum for growing foliage. They contain a lot of blue light in their spectrum, but appear white in color. They usually require a ballasted fixture; however, there are a few, typically 25 watt, internally-ballasted bulbs in the marketplace—which are suitable to use in conventional track-lighting fixtures.
Florescent lights have a good plant growing spectrum, but they may not provide sufficient intensity if mounted from a distance, so ensure close placement to the living wall. These are typically only acceptable for small applications, and it may be difficult to find attractive fixtures to pair with them.
The following lights are not recommended for growing plants:
Halogen lights do not have the proper spectral components for growing plants.
High Pressure Sodium lights lack blue light in their spectrum needed to support indoor foliage plants and the light they emit tends to look yellow. Their spectrum supports flowering, and therefore they may be a good choice for indoor plants when combined with a Metal Halide light.
Ordinary LED lights, i.e. LED lights that are commonly used in office or exterior lighting—typically with color temperatures of 3000K-4500K—

ARE NOT SUITABLE FOR PLANT GROWTH

.  If LED lighting is desired, the LiveWall® Norb® (Nutri-Orb) LED bulb should be specified.
How long should indoor plants be artificially lit?
Most plants will grow well with 12-15 hours of light per day. For optimum growth, LiveWall, LLC recommends that you set your lighting for the living walls on a dedicated outlet which is programmed to run for approximately 14 hours per day. Most plants require both light and dark periods; therefore, we advise against programming the growing lights to run at night.
Does the LiveWall System need irrigation?
Yes. The amount of irrigation applied will depend on the plants selected, the local climate, specific weather patterns and the wall orientation (south, north, east, west, windward, leeward, high, low, etc.). In most cases irrigation only needs to run for a few minutes each day. The LiveWall System enables you to install an automated watering system with precise metering to nurture the vertical garden plants you choose. For more information, please contact us at sales@liveall.com or call 877-554-4065.
What type of irrigation feed does the LiveWall System need?
The LiveWall System requires an irrigation feed that is capable of providing sufficient water volume and pressure for each irrigation zone. This means 8-10 gpm per valve (zone) and regulated to 15psi pressure, via pressure regulators that are placed upstream of each valve. The system also requires backflow prevention, and it is strongly recommended that it also include an irrigation controller, fertilizer injector, and a micron filter to keep any waterborne debris from plugging up the irrigation nozzles. These components are available as accessories when purchasing your LiveWall System.
How is the irrigation hooked up?
The LiveWall system comes with a built in irrigation conduit in the RainRail mounting track. It needs, however, to be connected to a suitable piping conduit. The piping conduit consists of header pipe and fittings, valves (each filled with a 15 psi pressure regulator), a 150 micron debris filter, irrigation controller, and fitting for annual "blow out" to clear piping conduit of water before freezing temperatures.
What is the difference between "Side Irrigation Feed" and "Rear Irrigation Feed" LiveWall Structures?
LiveWall systems can be designed so that the irrigation pipe feeds into the side of the RainRails (Side-Feed) or behind the structure into a rear tap on the RainRails (Rear-Feed).  Rear-Feed systems utilize thicker furring strips so that the irrigation components (valves, pressure regulators, feed lines) can fit behind the planters.
What happens if I have hard water?
Properly treated hard water poses no health risks and actually provides beneficial nutrients to LiveWall plants. However, buildup of calcium or iron scaling from untreated hard water can potentially impair the flow of water through the irrigation nozzles. Happily, the cost of treating hard water is not an expensive add-on to a LiveWall System installation.
In cases of hard water, use phosphate descaling system to prevent irrigation system blockage or failure.  This can be purchased from LiveWall.  Descaling cartridges should be replaced annually and can be reordered from LiveWall.
On larger walls, an alternative chemical treatment system may be preferred.  In these cases, LiveWall recommends CH2O, Inc.
For a free water test to determine the type of hardness, how much is in the water, and the cost of treating 10,000 gallons of your water, send a sample to:
Free Water Test
CH2O
4141 Boston Harbor Rd. NE
Olympia WA, 98506
Attn. Bruce Kooi
Phone: 360-259-6493
Does the height of the living wall system affect irrigation?
On outdoor walls, the higher up you go, the windier the conditions tend to be, and you will get more evaporative drying. One simply compensates with a little more irrigation. You can expect to lose about 1/2 PSI of pressure per each foot of elevation. This corresponds to about 1/2 PSI for each tier of the LiveWall system and on very tall walls, booster pumps may be needed to sustain pressure. Plumbing should be sized and engineered accordingly. For more information, please contact us at sales@livewall.com or call 877-554-4065.
How often and how much water do I need to apply to sustain the green wall plants?
On outdoor systems, the RainRail hybrid mounting system/irrigation conduit, in conjunction with wide angel nozzles provides rain-like irrigation to foliage and soil. This allows for cleaning the soil surface, foliage and stems, and ultimately contributes to plant health and longevity. Water use through this system is minimal and the run time is typically only 1 to 2 minutes per day depending upon plant material and exposure of the plants to wind and sun.
The following chart should be posted near irrigation controllers and should be followed by living wall caretakers to optimize wintertime survival of perennial plantings.

Download a PDF of the LiveWall Outdoor Irrigation Schedule
Do I have to blow out the irrigation system on outdoor living walls in the fall?
In northern climates, deactivate the system in fall by blowing out the irrigation lines with compressed air, not to exceed 20 psi, and turning the irrigation controller off. Empty lines and valves are required to avoid freeze thaw damage.
After blowing the system out, the rain may effectively water the top few rows, and keep it moist until freezing occurs. But, the lower levels can still dry out and should be monitored and kept moist until the soil freezes for winter (it is important that the plants do not enter winter with the soil being dry).
If the soil does dry out after the system is winterized, then the system should be reactivated and the soil irrigated—and after irrigation, the system blown out again.
Do I need to water my outdoor vertical garden during the winter?
Warm Climate:
If you live in a warm climate, you certainly will, but to a lesser extent than during the growing season.
Cold Climate:
To sustain perennial plants through the winter, the soil must not excessively dry out. The plants in the living wall will not receive sufficient moisture from rainfall due to its vertical nature, and because the planters are exposed, the plants will enter dormancy earlier than the plants in the ground will. Therefore, you will likely need to water your perennial plants before the danger of freezing has passed and typically much sooner than you begin irrigating your at grade landscape.
If the application is planted with perennial plants and it is large, or commercial scale, activate the system as needed - but do so only on warm days where water can flow and drain freely, and only enough to remoisten dry soil.  The irrigation system will need to be blown out after each use until the danger of freezing has passed.
If the application is small scale, then wintertime watering can be implemented as indicated above, or simply by using a hand held hose or watering can as the weather necessitates.
How do I go about having a LiveWall system installed?
LiveWall is typically installed by professional contractors specializing in landscape, irrigation, siding or general constructions.  Contact us at sales@livewall.com or call 877-554-4065 for a professional referral.
Is the LiveWall System easy to install?
Yes. Among the planted living wall products, LiveWall is the easiest to install. Everything is integrated, installation steps are spelled out in our installation guide and website video, and very few tools are required. Our WallTer® plant modules are shipped with mature plants at your request and planted in nutrient-rich soil. Fast easy installation is the norm, and this equates to economical installation.
How long does it take to install the LiveWall System?
Our time studies indicate that it takes about 3/10 (.3) to 1/2 (.5) man-hour of labor per square foot. It will be somewhat greater for smaller applications and less for larger applications.
Can I install the LiveWall system during the winter?
Yes you can. The infrastructure of the LiveWall system can be installed in every season. There are few things to keep in mind. When installing in temperatures at or below freezing the irrigation system should not be activated. As a result you will need to test the irrigation system once the temperature climbs above freezing. Also, plants should be not be installed during winter.
To minimize installation time, please familiarize yourself with the installation instructional video on this website.
Does the LiveWall System require maintenance?
Anything living requires maintenance, including LiveWall. Thankfully, due to the design of the LiveWall system, maintenance requirements will be minimal and will vary with the type of plants that have been chosen. LiveWall provides a complete maintenance guide with suggestions for each category of plant.
Annual plants may not require much care at all. However, at the beginning of each year they will need to be replaced with new fully-grown annuals. Simply remove the WallTer® planter inserts from last year, and drop in the new pre-vegetated inserts for the current year.
If perennial plants are used, they will be subject to the typical maintenance of ground level perennial plantings: removal of spent flower stalks, fertilization, and trimming stems and foliage if they become overgrown. If the plants are deciduous (i.e., they drop their leaves in fall), they will need to be pruned back to the soil level each spring before they break dormancy.
May I climb upon my LiveWall system for maintenance?
No. The LiveWall System is not designed to be climbed on for maintenance or any other reason. It is designed to hold plants, not a human body. Climbing on the system could lead to product failure and injury. Be sure to keep children off the vertical garden tiers, as well.
Can I use de-icing chemicals on my LiveWall plants during the winter?
No. LiveWall plants are damaged or killed by deicing chemicals. If your LiveWall is near walkway areas that are shoveled, you should throw the snow in another direction as it may contain de-icing agents.
How is it Fertilized?
Automatic Fertilization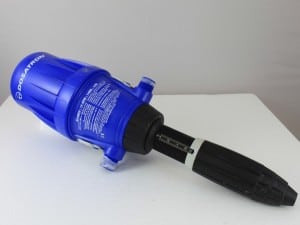 LiveWall systems may be purchased with a fertilizer injector that is tied into the irrigation system. The fertigation system injects a low dose of fertilizer each time your living wall is irrigated.

Manual Controlled Release Granular Fertilizer
Outdoor walls and hand-watered indoor walls may be fertilized once annually using a granular slow release fertilizer. The preferred product is Scotts Osmocote®, which releases nutrition slowly for the entire growing season. This product is available from most garden centers. Typically, one teaspoon of fertilizer shaken evenly across the soil surface of each Standard sized wall planter during the spring is sufficient to feed plants through the growing season. Half-sized wall planters may require half as much fertilizer. This will vary with formulation and in all cases, the labeled directions on the package should be followed.
Do not use granular fertilizer for indoor walls with automatic irrigation. The granules require water to run over the surface to activate, and LiveWall indoor systems include drip stakes that inject water directly into the soil.

Manual Liquid Feed
Every 6 to 12 months, indoor or outdoor living walls which do not have automatic fertigation may be fed with a higher concentration of liquid feed. Fertilizer may be applied manually according to the label directions using a watering can or a hose.
All applications of fertilizer are the sole responsibility of the applicator.
For more fertility management information, please see the Maintenance section of our website.

How often do plants require replacement?
The need to replant during spring with vary with the severity of winter, diligence to proper care, and plant material.
Annuals, Vegetables and Herbs - These plants require replacement at the beginning of every growing season.  There are two ways of doing this:  (1) You can drop off your WallTer inserts at a local nursery to have them pre-grow the plants in their greenhouses.  If they begin 6-8 weeks prior to your last frost date, you can begin harvesting right away once you plant them.  (2) You can plant the liners yourself using 2 or 3 inch starter plants from your local garden center.  In any event, it is important to thoroughly wash out the WallTer inserts and to start with fresh potting soil.
Soil type: Use organically rich potting soil, which is available at every garden center.
Perennials and Tropical Plants - By definition, perennials, including tropical perennials, have the potential to live forever.  But, when grown in a container such as the WallTer insert, they will eventually become root-bound, and at some pont with have to be removed, divided and replanted.  How long they will go with out the need for division is a factor of the particular plant's habit, its root characteristics, and climate.  Many perennials are expected to last up to three years before becoming root-bound in the LiveWall system.
How do you know when it is time to replant and divide a perennial?  You know it is time when the plant has become so root-bound that hte growth and flowering become stunted.  When this occurs, the plants can be removed, divided and replanted.  Or, they can be composted and replaced with new plants.  Replacements should be done during spring or early summer so that the plants become well established prior to winter.
Soil type:  Use a potting soil containing pine park, as it decomposes very slowly.
Sedums and Succulents - Because most Sedums and succulents have very fine root systems, they have the potential to survive for many years without becoming root bound.
Soil type:  Use an "alpine type" soil that is gritty and highly inorganic.
Is there an opportunity to showcase my LiveWall vertical garden design?
Yes. Please post your projects on the LiveWall.com project showcase! And, please email us your high resolution photographs of your LiveWall projects. If we use them in future editions of this catalog or on our website, with your prior permission you will receive a call-out for your work and creativity.