Create stunning living murals with LiveWall® Indoor, the green wall system which provides a healthy growing environment for plants on virtually any interior wall surface.  Building owners construct indoor living walls because they purify the air, reduce volatile organic compounds (VOCs), humidify the air, and promote healthier, happier residents, customers and employees.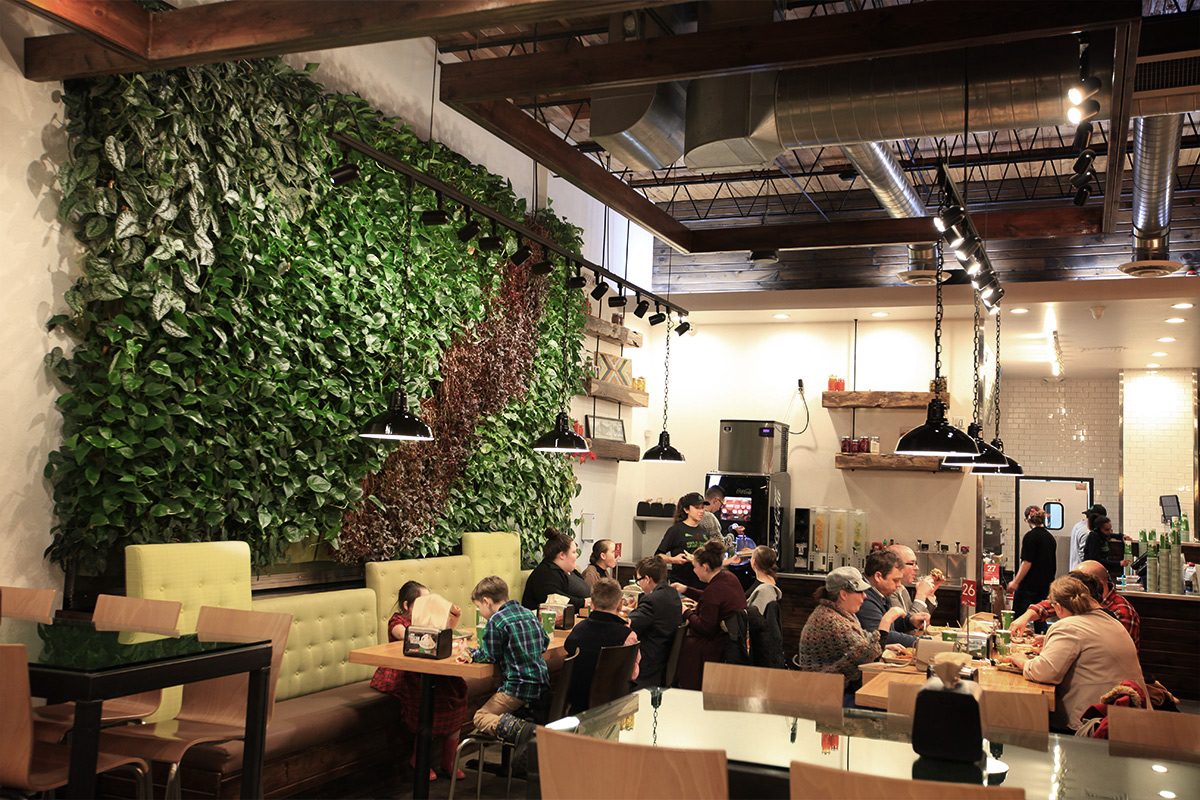 People surrounded by green wall plants experience improved mental and physical health, feel more content and relaxed, and are more creative.  Improved indoor air quality and exposure to plants in the work environment also benefits employers as staff take fewer sick days.
Why develop an interior specific vertical gardening system?
The LiveWall Outdoor system, which grows healthy plants, is designed to provide rain-like irrigation which is delivered by precisely metered spray nozzles.  Indoors, water containment is critical.    Therefore, the innovative team which developed the LiveWall outdoor green wall system revisited the drawing board to develop this new, drip free living wall system which provides the same high quality, architectural grade materials and healthy growing environment for plants.  Vertical gardens of tropical plants are now easy to design, install and maintain with LiveWall Indoor.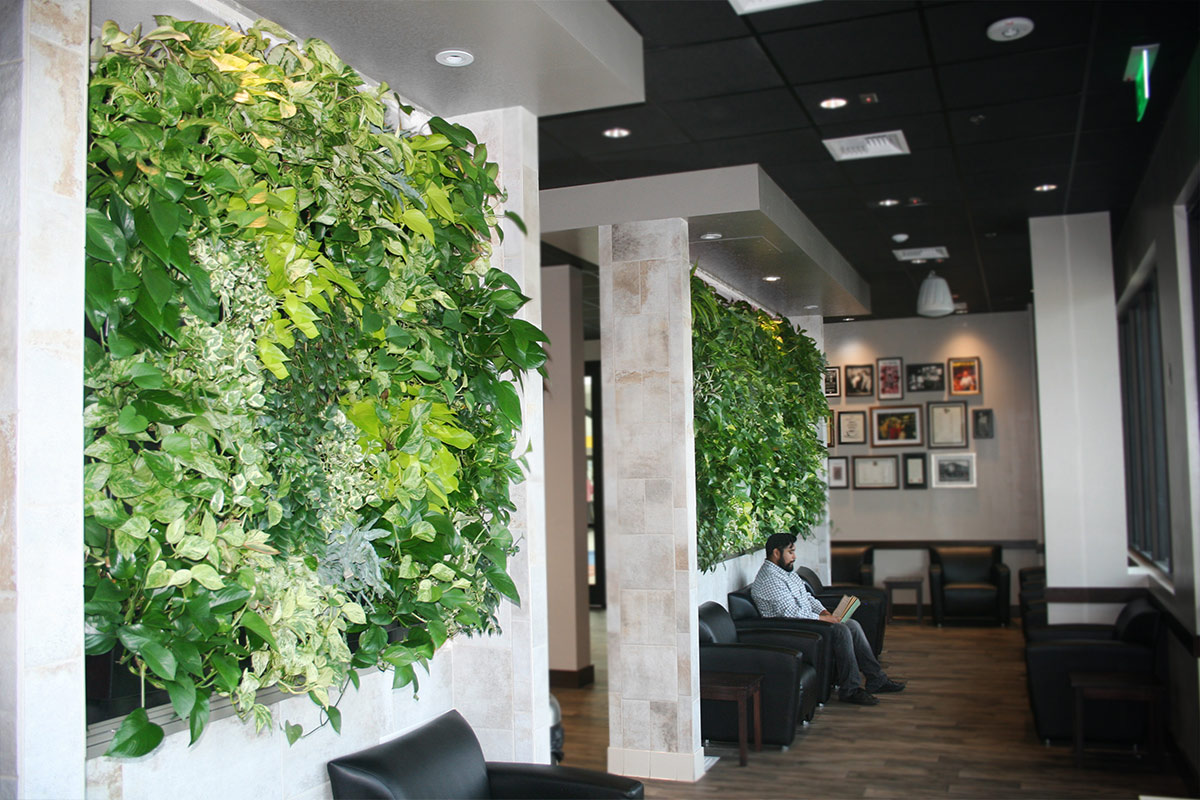 How is the indoor version of LiveWall different from the outdoor version?
The LiveWall Indoor system is watered by drip emitters instead of the mist nozzles used outdoors, and the WallTer wall planters have a rear drain which completely contains water used in the system.  The green wall planters also contain twice the soil as the outdoor version, accommodating the larger root systems typical of tropical plants.  Due to the larger planter size, LiveWall Indoor is vertically spaced 16" on center, whereas the outdoor version is 12" on center.  Additionally, the LiveWall Indoor system is available in these five beautiful colors: Blue Stone, Sage, Forest Green, Black, and Sand.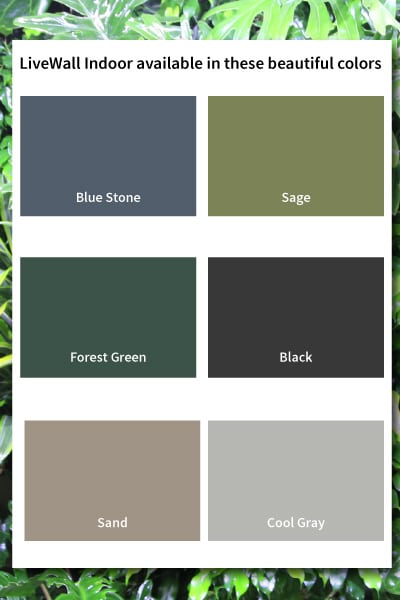 To see all of the differences between the LiveWall Indoor and LiveWall Outdoor systems, request a free design guide.
What kinds of plants are used in the LiveWall Indoor system?
Tropical plants commonly used in interior plantscapes are best suited to use in our indoor living wall systems.  LiveWall has trialed hundreds of plants and compiled them into an Indoor Plant Design Guide.  Contact us at 877-554-4065 for the latest recommendations.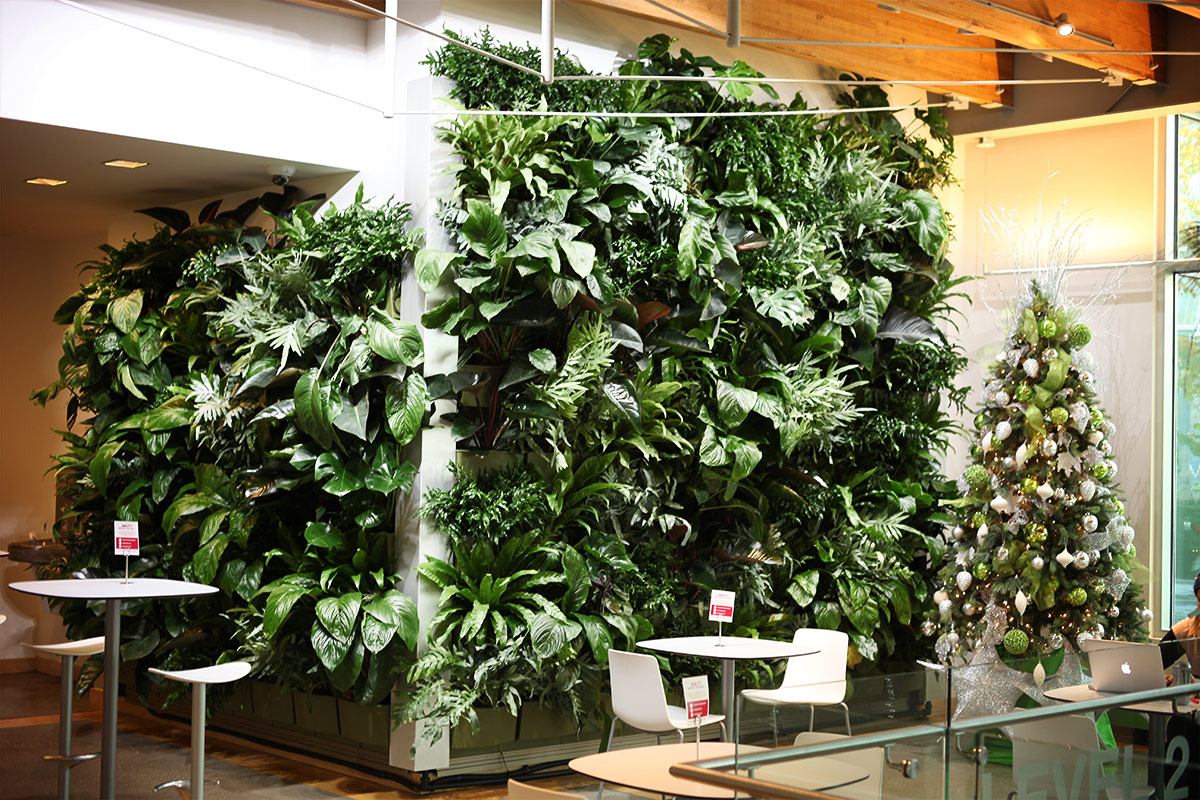 Is supplemental lighting required with LiveWall?
Lighting is critical to the success of your living wall. In nearly every indoor application, supplemental lighting will be necessary to ensure the proper intensity and spectrum of plant growth. For more information, visit the Indoor Plant Lighting section of our Frequently Asked Questions page.
We now offer a specially designed LED bulb that is white in appearance and supports healthy indoor plants.  Learn more about the Norb LED grow bulb.
Is there an Indoor Version of LiveScreen, the living wall system on wheels?
Yes, LiveScreen Indoor units are available as hand-watered units--most plant selections would be watered once weekly by hand.  LiveScreen is a striking divider, providing privacy without confinement.
Contact us to get started with your indoor living wall project - 877-554-4065. 
Downloads
LiveWall Indoor Details:  SIDE-FED
Lower cost option - irrigation lines are run along the side of the living wall structure and would be covered with a facing material
LiveWall Indoor Details:  REAR-FED
Higher cost option - irrigation lines are run behind the living wall structure
More information > Detail Drawings  
Installation Instructions
Our design staff provides customized shop drawings of the structural layout with each order.
More information > Installation
We designed LiveWall for ultra low maintenance.
More information > Maintenance
Save
Owner Testimonial
"Every decision we made about the space reflects our responsibility to the environment, we hope to inspire our customers, suppliers, competitors, and contractors to appreciate the values that inspire us and express them in the ways they live, do business, cultivate food, and enjoy it. Everyone's response to our green walls has been so positive. We plan to integrate green walls into all our future locations."
- Sam Abbas - Founder, Brome Burgers and Shakes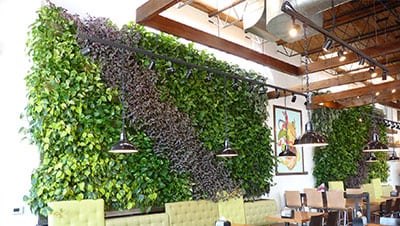 How LiveWall Indoor Works
LiveWall is simple and effective; first you place a waterproof membrane to the building wall.  Then, attach the aluminum VertiRails® (furring tracks) to the building wall. These allow for ventilation and provide a surface to attach the RainRails®. The RainRails do two things; they hold the WallTer® wall planters, and because the RainRails are hollow, they convey the irrigation water to the drip emitters which stake directly into the soil to fully contain irrigation water.
To make it even easier, we designed the WallTer inserts, which are the plant containers that drop into the WallTer wall planters. This way, you can choose to have instant gratification with pregrown tropical plants, which can be dropped into the WallTers in mature condition. And, if desired, the wall can be reinvented quickly by rearranging or swapping plants.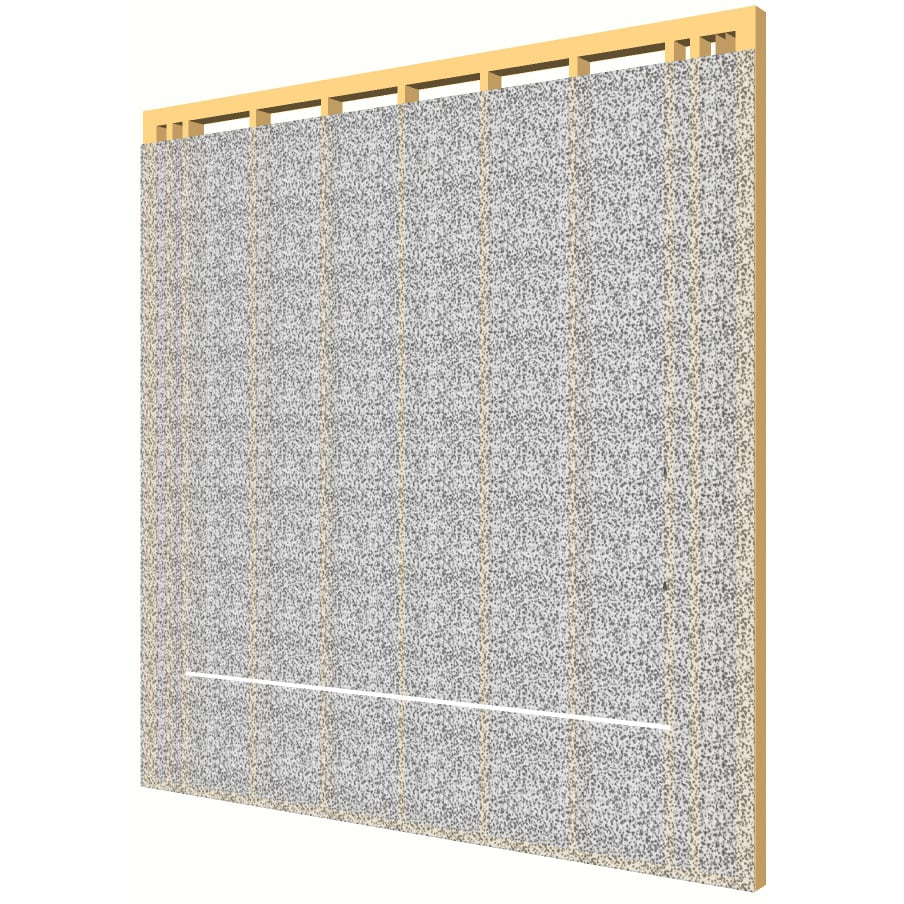 STEP 1
Set Wall Location
Locate bottom of installation, then snap chalkline level with bottom of wall location.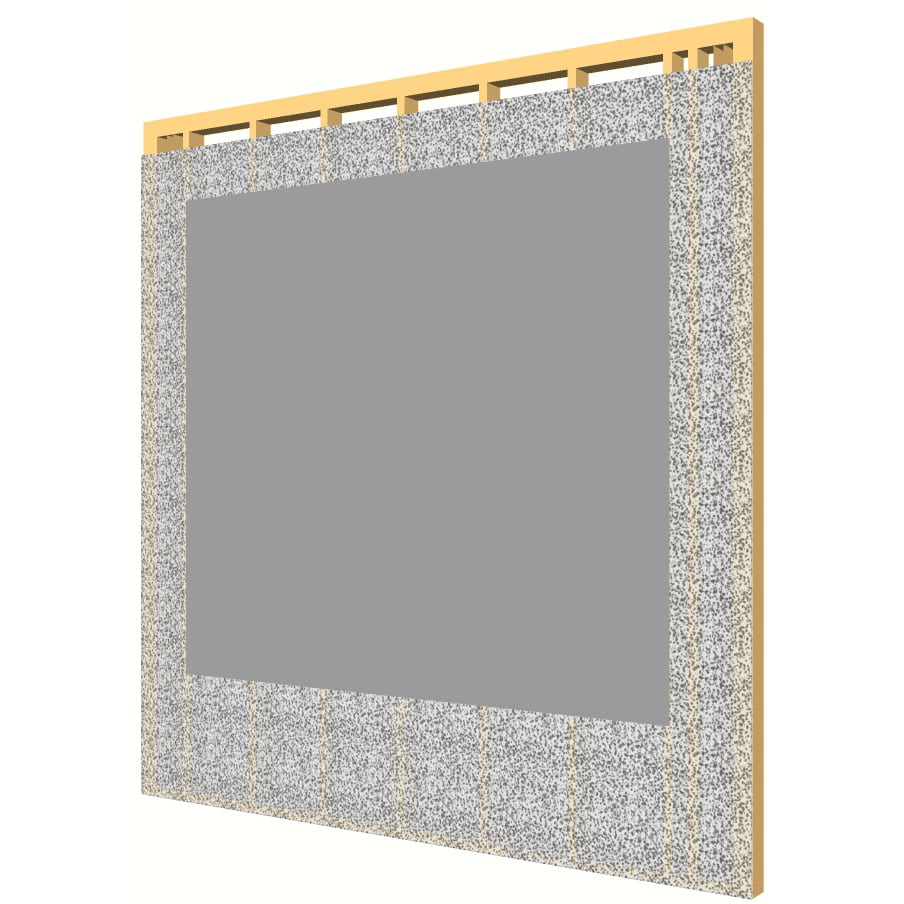 STEP 2
Install Membrane
Cut to size, then attach waterproofing material over the area to be covered with the LiveWall system.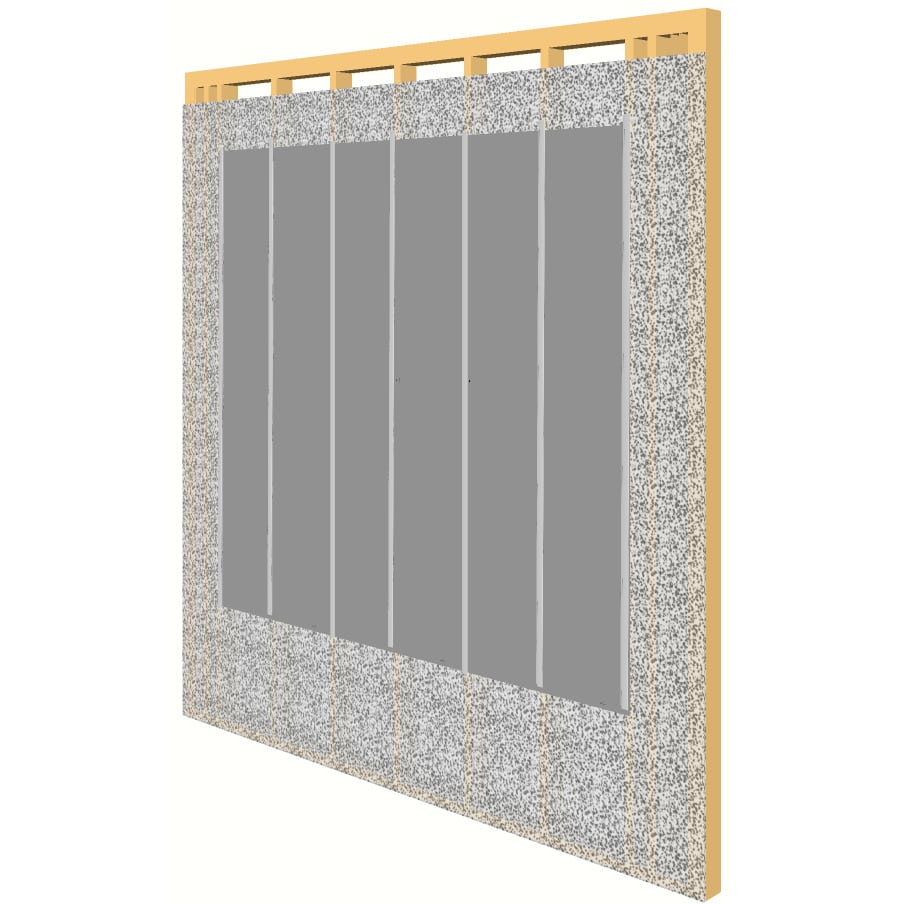 STEP 3
Install VertiRails™
Install the VertiRail aluminum furring tracks to the wall, over the waterproofing material on 16 to 32 inch centers.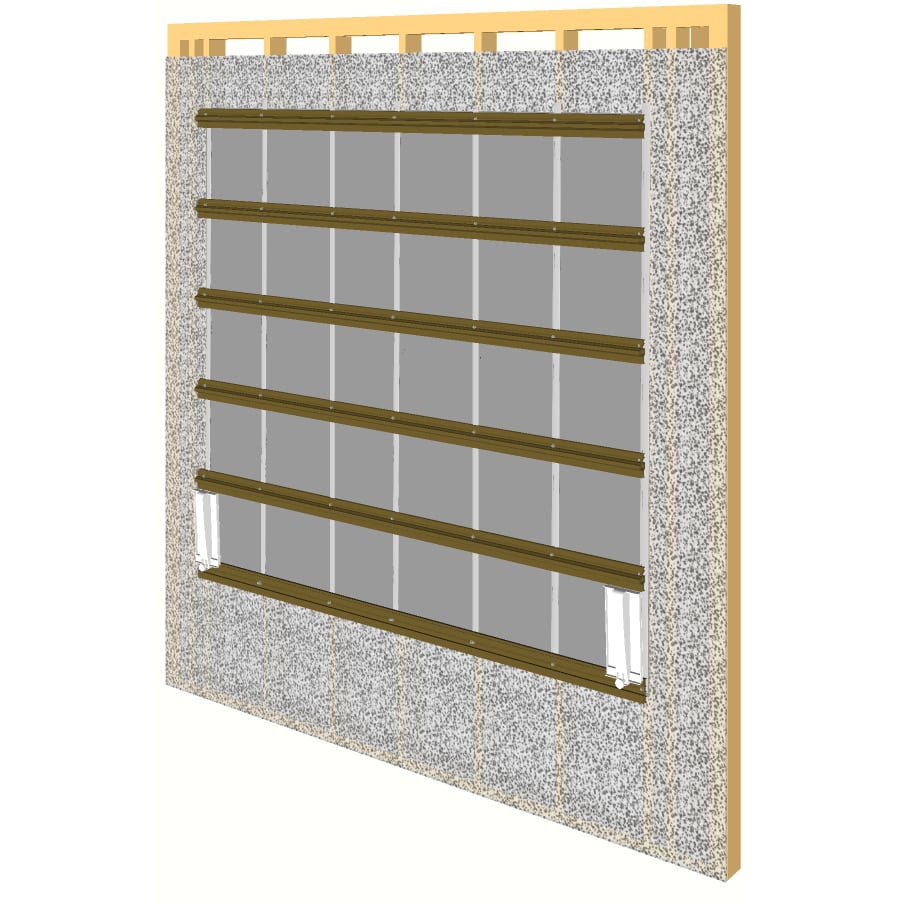 STEP 4
Install RainRails™
Using the 16″ GapTools space and attach the RainRail (for automatically irrigated version) or H-Rails (for hand watered version).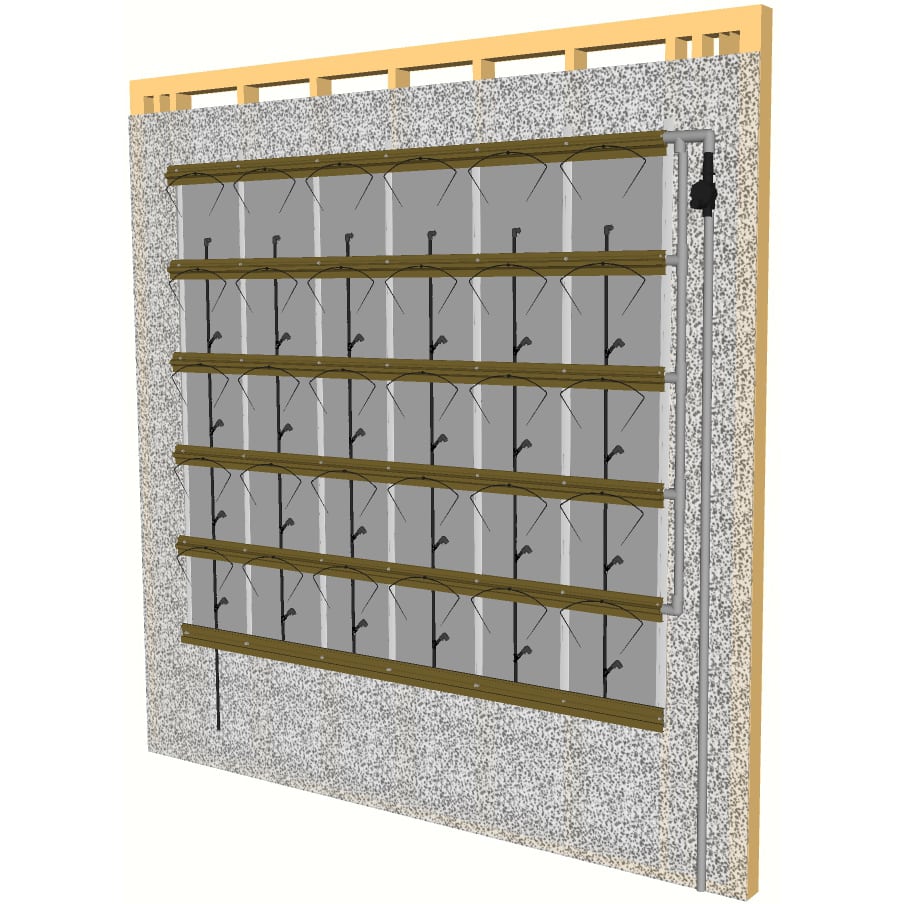 STEP 5
Install Irrigation
Hook up the irrigation feed to the RainRails, then install drip emitters.
Hook up rear drain tube assembly, and connect into drain line.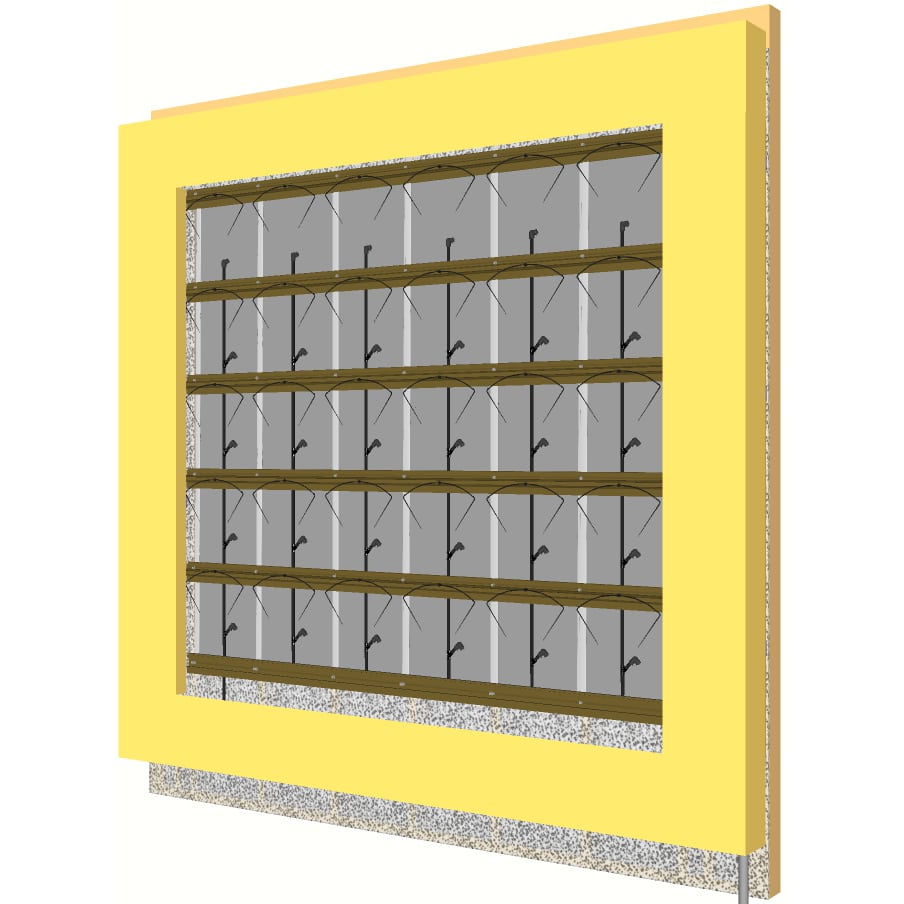 STEP 6
Install facing material
On side-fed walls, install supplied HideAway brackets along the irrigation feed. HideAway brackets are used to mount the owner-preferred facing material over the irrigation feed.
Install contractor-sourced facing material onto HideAway brackets to conceal irrigation feed. Aluminum and wood are most commonly selected facing materials.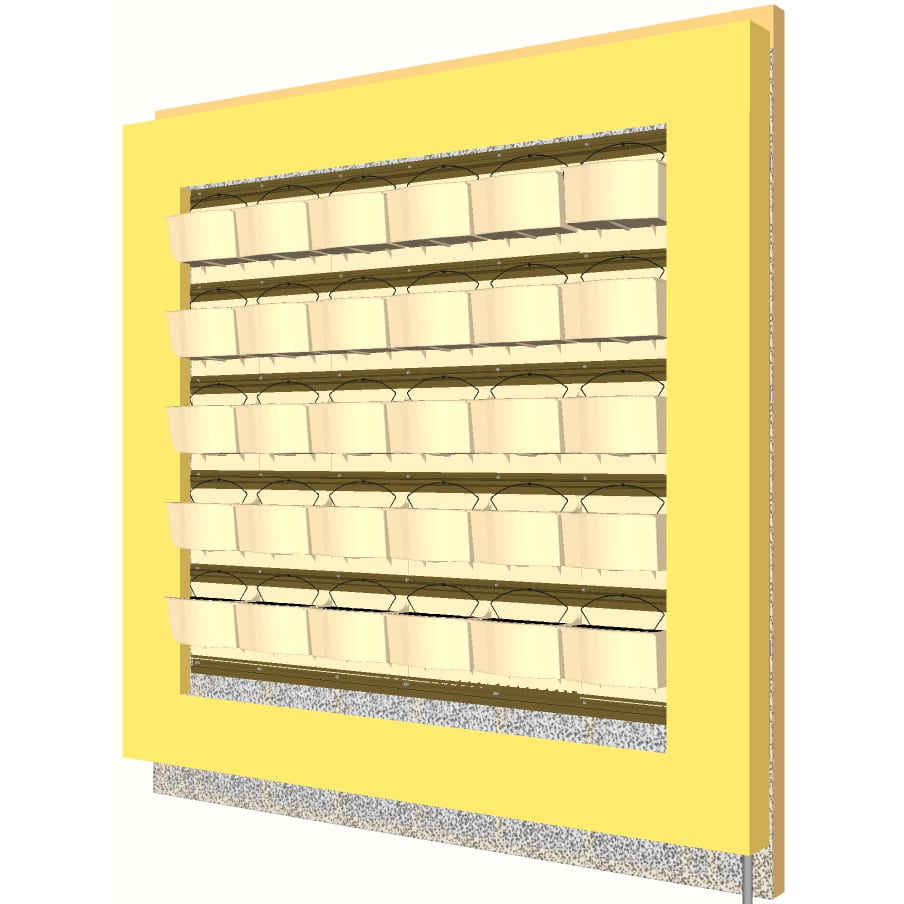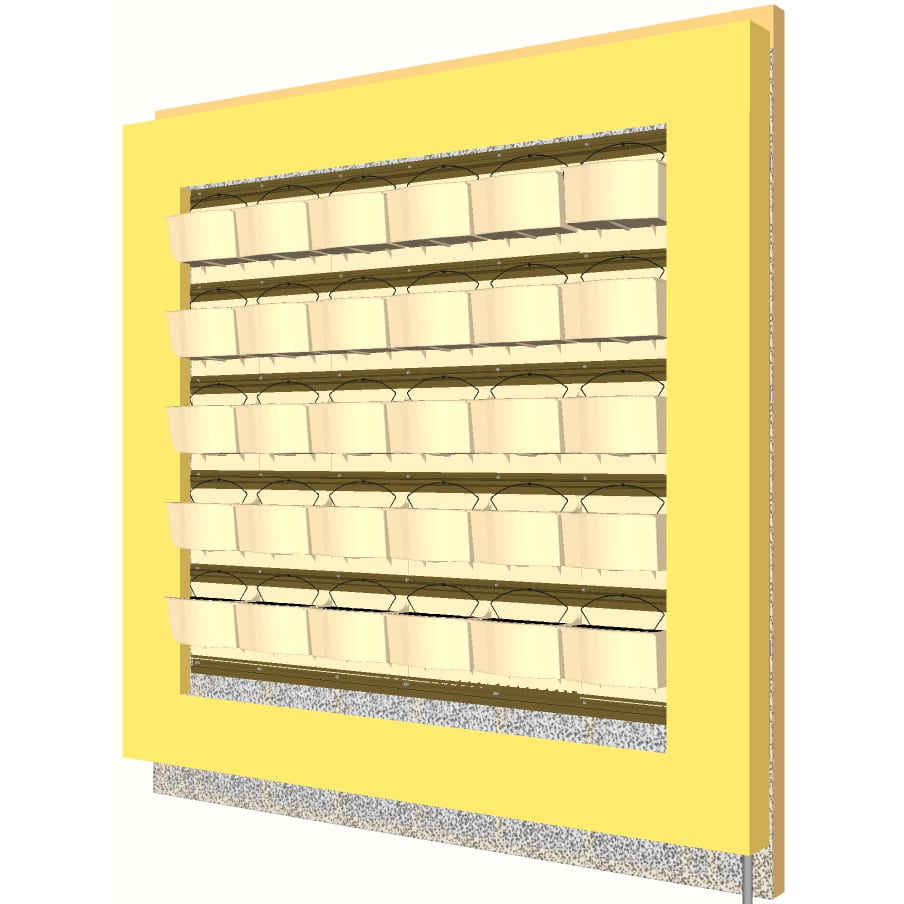 STEP 8
Install Planted Inserts
Drop in pre-planted WallTer inserts from grower of your choice.