LiveWall: Vertical Gardens That Thrive on Walls
Welcome to LiveWall®, suppliers of the world's most sustainable, durable, low maintenance living wall system.
LiveWall Vertical Garden Benefits
You may have arrived here because of your interest in reducing stress, enhancing indoor air quality, improving mental health, reducing employee sick days or demonstrating your commitment to sustainability. You may be seeking living art for the walls. You may be an architect, landscape designer or contractor pursuing the fast-growing market demand for "vertical gardens," "green walls," "plants on wall" or simply "living walls."
We've worked hard to be the best, and our claim rests on the tested beauty, sustainability, durability, easy installation and low maintenance of our living wall designs. But please visit our pages according to your interests and decide for yourself.
Can LiveWall Gardens Work for Me?
Whether you are a commercial property owner, professional landscape contractor, architect, interior designer or landscape designer, LiveWall is proud to have demonstrated its performance as the world's best provider of flexible, modular living wall systems that can be installed on virtually any outdoor surface and on most indoor walls of any home or workplace. Simply stated, we produce vertical greening systems THAT WORK.
CALL US AT 877-554-4065 TO GET STARTED ON YOUR CUSTOM LIVING WALL PROJECT.
Simply put, LiveWall is the living wall system that works.
Structure provides good air flow behind the system.
Planters provide natural orientation.
Removable planter inserts allow for ultimate flexibility.
Outdoor systems provide natural, rain-like watering.
Indoor systems are drip-free.
Healthy growing environment provides long-lived plants and low maintenance costs.
Structure backed by 15 year warranty.
LiveWall serves a variety of customers.
LiveWall has supplied green walls to industry leaders in business services, entertainment, education, healthcare, hospitality, manufacturing, retail and senior care.
Most commonly, commercial and residential property owners hire professional building and landscape contractors to install and plant their LiveWall system.
Or, our LiveScreen systems can be purchased by any property owner or renter who wants to add a mobile green wall.  LiveScreen® systems arrive fully assembled and include a hose timer for the easiest, carefree gardening solution.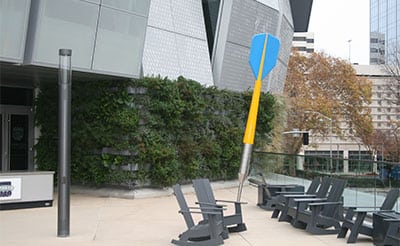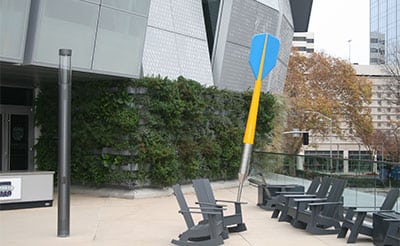 Owner Testimonial
"Unlike any other arena, the beautiful Golden 1 Center is the catalyst for the region, built on the foundation of the city's ideals and values—a purposeful effort to think about our environment and resources and profoundly impact the economy in Sacramento and beyond. The entire project is a model of sustainability. Our green walls are a prominent feature of the arena and represent the fulfillment of our vision."
– Chris Granger, president of the Sacramento Kings