Garden, gardens, gardening…from the inventors of the world's best green living roof system comes the most advanced and sustainable design of year-round living walls for home or office, indoors or out. Welcome to LiveWall™ LLC.
We offer more than the answer to the question: "how can we go green?" Think of our vertical garden products as living art for the walls that also lowers heating and cooling costs and promotes a healthy mental and physical environment in which to think and breathe.
LiveWall is an eco-friendly creative enterprise founded by one of America's best nurseries, Hortech, Inc., of Spring Lake Michigan. LiveWall is the leading designer of practical and sustainable living wall products with advanced irrigation watering preferred by designers, architects and outdoor landscape contractors. The company sells its planted wall products globally through a network of distributors.
The parent company, Hortech, is the creation of Dave MacKenzie, a horticulturist, biologist and author of two respected books on ground cover, Timber Press Pocket Guide to Ground Covers and Perennial Ground Covers.
Dave's interest in plants and living space began in college, and he graduated with a vision of accumulating significant acreage and building rows of greenhouse near the southeastern shore of Lake Michigan to take advantage of rich soils, reliable precipitation and summer and winter temperatures, moderated by the proximity of the enormous lake. Today, the complex of Hortech nurseries and greenhouses are surrounded on three sides by water at the convergence of Spring Lake and the Grand River, just 3.5 miles from the "singing sand" beach and spectacular dunes of Lake Michigan and its temperature-moderating 1,180 square miles of fresh water.
Dave is a horticulturalist committed to research and development of plants and the infrastructure and environments to nurture and sustain them, and he quickly built a multi-disciplinary team to assist in these studies. Achieving national renown as a leader in ground covers, Dave had the wide-ranging experience with both plants and hydration combined with the perennial plants knowledge to emerge as a national expert in green roofs as this product of responsible green building design caught on. Dave quickly formed a subsidiary to Hortech and named it LiveRoof™ LLC.  The enterprise was an immediate success, taking its knowledge of peristaltic pumps, moisture sensors, water metering, PVC pipes, backflow pressure, rain sensor technology, and orbit timing to new levels for the emerging industry, and providing landscape architects and designers with roof garden designs that are as durable and sustainable as they are beautiful.
During 2008, in answer to customer requests for a living wall system for green homes and green offices, Dave and his highly experienced team began testing a number of existing living wall systems. At the time, each commercial system on the market was found to be too complicated to install, plant and maintain. Worse, Dave's research team found them to be poor at growing plants.
Most planted wall systems require plants to grow sideways, inconsistent with their natural behavior. Most planted wall systems also require irrigation watering to "trickle" down through the soil from one compartment to the next, also contrary to nature, that supplies water to the soil surface by rain.
The team concluded that each of these requirements imposes unique stresses leading to plant health problems. When you water a plant through a column of soil, from top to bottom, so much water is passed through the top-level compartments that you leach the nutrients out of the soil. This can lead to plant stress and disease and insect infestations, which can be passed downward in the irrigation stream. On the other hand, the lower compartments tend to be wet and water-logged, which often induces fungal and bacterial root rot, which can weaken and kill the plants.
Ultimately, Dave's team understood that plants, at least most of them, have evolved such that their roots grow downward (physiologically known as geotropism) and their stems grow upward (physiologically know as phototropism). When they are forced to grow counter to their natural physiology, it appears to impose substantial stress that may lead to disease.
Having thoroughly identified the challenges and solved them with an effective horticultural design, the launch of LiveWall was inevitable. Today, the company is well down the road to repeating the commercial success of its older cousin LiveRoof. Dave MacKenzie and his team are proud to offer what they truly believe is the world's best green wall system by packaging astonishing beauty with TopSide® and patented RainRail® technology for growing plants vertically in a manner that is healthy, simple and sustainable.

About founder Dave MacKenzie
"We have learned to be agile and quick moving," Dave explains, "but we wait (to move ahead) until we are convinced our products (and plants) are sustainable."
LiveWall, LLC and its sibling LiveRoof, LLC have emerged from the prolific imagination of Dave S. MacKenzie and the deep horticultural talent he has attracted to his complex of greenhouses in western, lower Michigan. Dave's companies have been supporting the most fertile minds of architects, designers and landscapers since 1983, when he launched parent company Hortech, Inc. shortly after graduating from college with a degree in biology.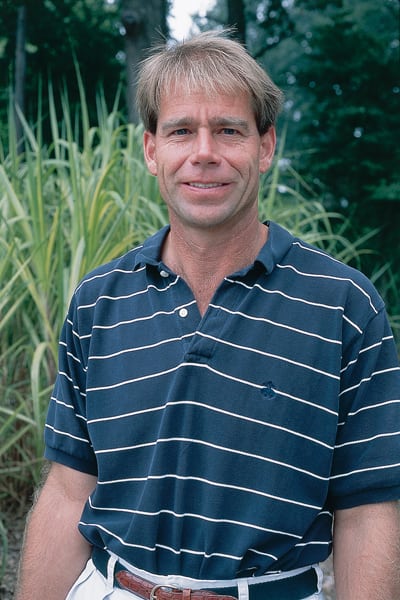 Dave relishes the speed, creativeness and integrity of his privately held companies. In a word, Dave and his committed team of horticulturists and gardeners are "agile" in their quest for better plants, biology-based growing practices, and sustainable growing systems for beautiful indoor and outdoor gardens and rooftops. As an example of their generative power, Dave and his team successfully entered the green roof market as LiveRoof with a superior product in just three months, a marked contrast to the three years it has taken some competitors. Today, LiveRoof , LLC is the go-to company for leading architects, designers and building engineers.
"We have learned to be agile and quick moving," Dave explains, "but we wait (to move ahead) until we are convinced our products (and plants) are sustainable. On balance, the combination of innovation, speed and deliberateness has paid off. We have more winners than losers." While he is often a first-to-market force, this core commitment to quality differentiates Dave's companies from some competitors. Dave doesn't release a product until it is ready to thrive in the hands of his customers. As a by-product of this deeply held philosophy, Dave's creations are sometimes the first products to market that actually work as intended.
Unlike some corporate leaders, Dave is not entirely motivated by money; rather by the challenge of understanding what his customers and the market need or might need, developing a vision for the future, then bringing that vision to life. "My team and I are committed to achieving the most beautiful and sustainable plants and plant growing systems. I am proud that our work is so beautiful."
The son of a physician who grew up amidst the ample rainfall, gentle climate and unusually fertile soils that define the eastern approaches to lower Lake Michigan, Dave had originally intended to become a doctor, as well. But a major in biology, as part of a pre-med program, plus working with plants to earn money during the summers, exposed Dave to horticulture of which he ultimately chose as a career.
Back in 1983, having graduated from Hope College at 21, Dave and a business partner began a lease-to-own relationship with John Moser, a local nurseryman, who left the nursery industry to become an ordained minister.  The name of the business was changed to Hortech for "horticulture and technology" and the new entity began operations.
As a result of his education, hard work and inquisitiveness, early in his career Dave became a noted ground cover expert and author of three books on the subject of perennial ground covers. In 1993, Dave became the sole owner of Hortech, and in time the business grew to its present 150 acres. While Hortech continues to be a leader in ground covers, Hortech now offers a tremendous line of perennials, vines, grasses and ferns. And, Hortech's subsidiary LiveRoof, LLC. has become an industry leader in green roof systems (see LiveRoof.com [link]). Now, following four years of development, Hortech has formed LiveWall, LLC, producer of the first truly sustainable living wall system.
The LiveWall system, like Dave's other business interests, is testament to Dave understanding the value of a talented team. He has found that, with mutual trust and the power of many brains committed to the best in healthy green living products, it is possible to develop a new, workable, sustainable benchmark in vertical gardens—for both artistic beauty and the backyard growing of herbs, vegetables and small fruits. And, perhaps with LiveWall, the physician's son who had once wanted to be a doctor, has created something remarkable that fosters physical and mental health, both at home and at work.
Read More > Why Living Walls?